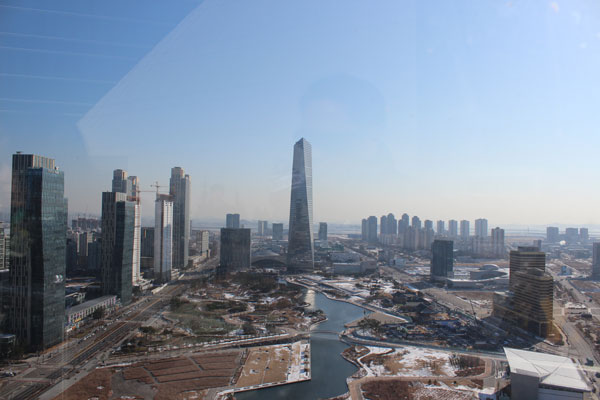 An overview of the Incheon Free Economic Zone, South Korea, Dec 5, 2014. [[Dai Tian / chinadaily.com.cn]
South Korea is restructuring its free economic zones (FEZs) through deregulation and reform, and is poised to surpass Hong Kong and Singapore in terms of FDI attraction, said government officials.
The FEZs are expected to be test beds for the nation's deregulation, where foreign investors can enjoy free rent, tax deduction and tariff exemption, and will operate under a negative list, said Lim Kiseong, director for the Ministry of Trade, Industry and Energy on Thursday.
Named according to their geographical locations, the eight South Korean Free Economic Zones include Incheon, Busan-Jinhae, Gwangyang Bay, Yellow Sea, East coast, Saemangeum, Daegu-Gyeongbuk and Chungbuk. This year marked the 11th anniversary of the first FEZ.
"The Foreign direct investment to South Korea used to be mainly from the US and EU, but now we can see more investments from our largest trading partner," said Park Soon-kee, director general of the FEZ planning office.
He added that the government is preparing to lure more investment from China as the two countries sign the Free Trade Agreement next year.
"Our target is to go beyond Hong Kong and Singapore and be among world's top three free economic zones by 2020," said William Lee, director of tourism investment for the Incheon Free Economic Zone, to chinadaily.com.cn.
Pros and cons
South Korea has gone a long way to embrace foreign investment, despite complaints from domestic companies of "unfair treatment", according to government officials.
Within the area, foreign investors are eligible for 100 percent exemption in national and local tax, and 100 percent tariff exemption on imported capital goods for five years, said the homepage of the KFEZ.
Foreign companies with more than $1 million investment in advanced technology or hiring more than 300 employees in the region can have 100 percent deduction in rent.
"The tax reduction and benefits are currently only for foreign investors. Domestic companies are still negotiating with the government," said Lim, adding that the government also needs to help level the playfield for Korean companies.
He said more incentives for foreign investments are on the way including the introduction of a negative list and deregulation in areas such as recreation, education and labor market.
"There are two keywords for the FEZs, selecting and concentrating," said Lim, explaining that the eight FEZs will have to complement and compete against each other.
Park, facing pressure from local governments, cautioned that the development is "not too fast but too much", adding that there will be a slowdown in the establishment of new free economic zones.