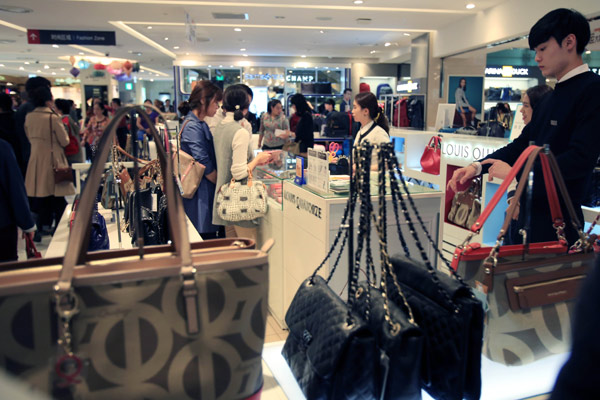 Chinese visitors at a duty-free shop in Seoul, South Korea. China-South Korea trade reached $274 billion in 2013, a 7 percent year-on-year increase. [Zhu Xingxin / China Daily]
The bilateral free trade agreement between China and South Korea will be effective in the second half of 2015, even as steps are underway to fast-track the proposed China-South Korea-Japan FTA, a top government official said on Monday.
According to Wang Shouwen, the assistant minister of commerce, most of the negotiations on the China-South Korea FTA have been completed and efforts are being made to iron out the technical glitches. "We expect the process to be completed by the end of this year," he said.
"China and South Korea have effectively reached a free trade agreement that would remove or sharply reduce trade and investment barriers between two nations," said Wang.
About 17 areas were involved in the negotiations between the two sides and have been detailed in 22 chapters, including trade remedies, customs clearance, investment transparency, communications and intellectual property rights.
China and South Korea launched the FTA negotiations on May 2, 2012. The 14th round of talks was held earlier this month in Beijing.
Wang attributed the speedy progress to the direct talks between President Xi Jinping and South Korean President Park Geun-hye in July. The two leaders had agreed to make efforts to conclude the negotiations within this year.
China is South Korea's biggest trading partner, largest export destination and import source, and the largest destination of overseas investment. South Korea is China's third-largest trading partner.
Trade between the two countries reached $274 billion in 2013, a 7 percent year-on-year increase and equaling South Korea's trade volume with the United States and Japan combined.
Sun Yuanjiang, deputy director-general of the department of international trade and economic affairs at the Ministry of Commerce, said the China-South Korea FTA will provide the modality as well as the driving force for progress toward a China-Japan-South Korea FTA and a Regional Comprehensive Economic Partnership.
The three countries are holding negotiations on a trilateral FTA. They are also negotiators for the Regional Comprehensive Economic Partnership that covers 16 economies in Asia.
"Economic integration in East Asia has been facing strains in recent years and a bilateral FTA will help advance trade and investment ties under the Regional Comprehensive Economic Partnership framework," said Sun.
Though many manufacturers and trading firms from Taiwan have expressed concerns about the proposed FTA and its likely impact on their trade with the Chinese mainland, the assistant minister said the Chinese mainland will continue negotiations on agendas of the Economic Cooperation Framework Agreement with Taiwan to further deepen cross-Straits economic ties.