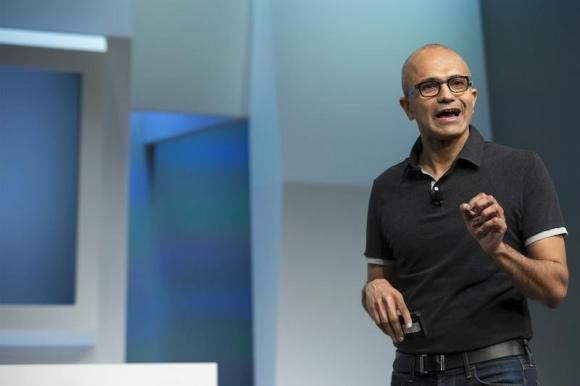 Satya Nadella, Microsoft Corp chief executive, attends the unveil event of the new Microsoft Surface Pro 3 in New York May 20, 2014. [Photo/Agencies]
Microsoft Corp Chief Executive Officer Satya Nadella is set to visit China in late September, a source said on Thursday, as the Chinese government conducts an antitrust investigation into the world's largest
software
company.
It is not clear if Nadella, who took over as Microsoft CEO in February, will meet with any Chinese government representatives as part of his visit, or try to resolve issues with the State Administration for Industry and Commerce, one of China's antitrust regulators.
A Microsoft spokesman would not confirm the visit, saying the company does not comment on executive travel plans.
Microsoft is one of many foreign firms to have come under scrutiny as China seeks to enforce a 2008 Anti-Monopoly Law.
Foreign CEOs often pay calls on officials in the world's second-largest economy to strengthen ties. Nadella would be at least the second major tech executive to have visited the country as antitrust tensions simmer.
Qualcomm Inc President Derek Aberle, looking to end the chipmaker's own antitrust scrutiny, met with Chinese officials last week.
Microsoft Deputy General Counsel Mary Snapp met with SAIC officials in Beijing earlier this month to discuss the antitrust matter.
SAIC initiated an antitrust probe into Microsoft earlier this month, saying that the company may have broken anti-monopoly laws regarding compatibility, bundling and document authentication for its Windows operating system and Office suite.
SAIC head Zhang Mao said his organization was focusing on Microsoft's Web browser and media player, and suspected the company had not been fully transparent with information about its Windows and Office sales.