7. Wal-Mart
In June 2014, Beijing Food and Drug Administration published food safety information that asked sale of 11 foods to be stopped; of which three kinds of bamboo fungus/suns were found to contain excessive sub-cadmium sold in Wal-Mart. The company responded by saying that the bamboo fungus had been taken off shelves.
The sub-cadmium was not added by the products' manufactures but from polluted soil, water and air. Taking small amount of cadmium for a long term will cause damage to kidney and bone in human body.
In December 2013, "five spiced" donkey meat jerky sold in US retailer Wal-Mart in Jinan, Shandong province, was discovered to contain DNA of fox. Police had investigated the meat supplier Shandong Dezhou Fujude Food Ltd Co. All products from Dezhou had been taken off shelves in Wal-Mart.
Wal-Mart apologized to the public and announced to compensate their consumers. The food purchase and food safety regulation of the company needed to be strengthened.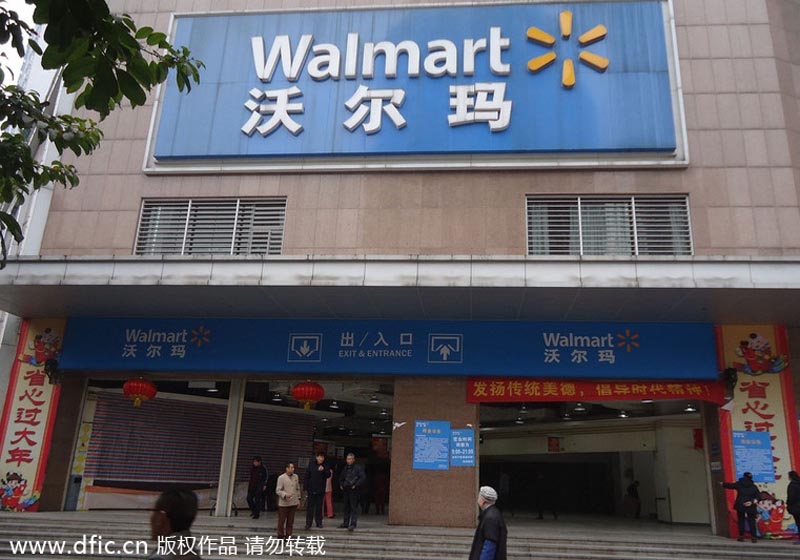 View of a Walmart supermarket in Chongqing, Feb 21, 2014. [Photo/IC] 
| | | |
| --- | --- | --- |
| Top 10 fast-food chains in China | Top 10 'hit' smart phones in China  | 6 foreign firms that sacked staff in China |