Capital Spirits,a liquor bar run by three foreigners working in Beijing - Bill Wong, Simon Dang and Matthias Heger, opened recently. It is nested within Baiju Hutong in a restored shop house designed by Greek architect Anna Pipilis. It is the first liquor bar in Beijing. With ancient courtyard and wood-paneled rooms, Capital Spirits is very Chinese.
Wong is an American who has been in agricultural industry for more than 10 years and he came to China after acquiring a degree in Chinese Studies.
Dang is a Chinese-American, whose parents are Cantonese and also the second generation immigrants. He fell in love with Chinese culture after two years of study in Tsinghua University. Heger is from Germany. Over the past three years he has developed the award winning German vodka Westkorn.
All of them have full-time jobs, so the bar will open after 8 pm.
"Going back to China, I find that Chinese culture is very fresh and attracting. The reason why we decide to open this bar is that we are fond of liquor and we love Chinese culture. However, lots of foreigners and even some Chinese cannot accept liquor. In fact, liquor itself is a culture," Simon Dang said. "We want to spread the liquor culture and tell people how to drink, appreciate liquor and get a feel for the liquor culture."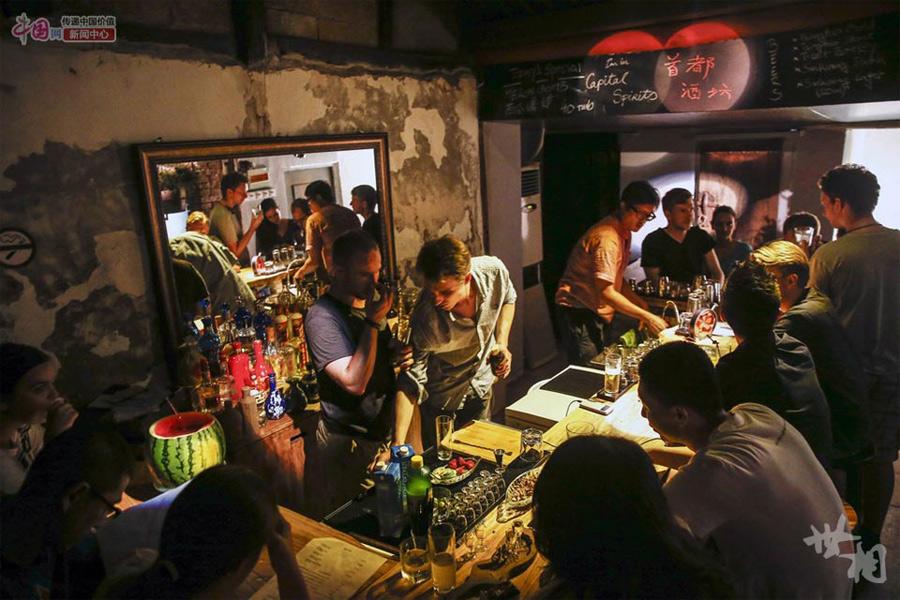 Capital Spirit has two meanings. First, it is a bar of the capital city Beijing. And also, it is a capital or the best bar, Heger said. [Photo/china.org.cn]