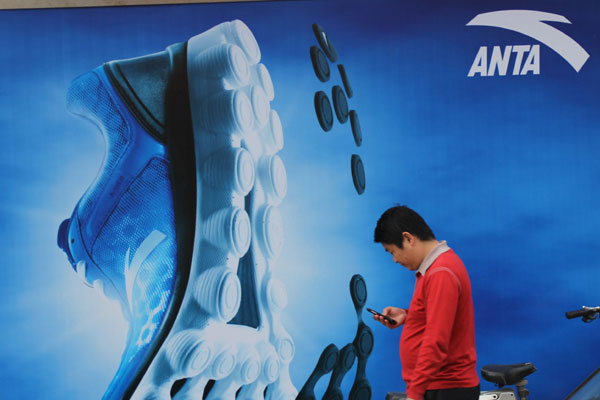 A billboard for ANTA in Qingdao, Shandong province, last year. Provided to China Daily 
Company says performance may have hit bottom during tough 2013
Chinese sporting apparel brand Anta reported lower earnings for 2013, but its management hopes for a better performance in 2014 on a spate of new orders.
Anta Sports Products Ltd announced declining revenue and net profits for 2013 on Wednesday in Hong Kong. By Dec 31 last year, Anta's turnover had tumbled 4.5 percent to 7.281 billion yuan ($1.18 billion) compared with 7.622 billion yuan in 2012. Net profit slid 3.2 percent in the same period to 1.314 billion yuan, in comparison with 1.358 billion yuan in 2012.
Yet, the footwear maker saw its gross profit margin rise to 41.7 percent in 2013 from 38 percent the year before, representing a 3.7 percentage point growth. In the Sochi Winter Olympic Games, the Chinese delegation attended the opening ceremony in Anta's clothing. China's Olympic medalists also wore the company's outfits on the podium in Russia
The company proposed a total dividend of 48 HK cents (6 cents), which is line with the offer a year ago.
Meanwhile, Anta is seeing improvement in market sentiment. Concluding in December, the group's trade fair for the third quarter of 2014 recorded "high single-digit" growth in value terms on a yearly basis, the company said Wednesday. It was the third consecutive quarter with "sustained and steady growth" for the sportswear maker's fair, the company said, adding it "signaled that the group's performance may have bottomed out."
The report also shows the company's liquidity tightening in 2013. Its free cash flow dropped 41.5 percent, from 1.610 billion yuan in 2012 to 941.7 million yuan by the end of 2013. "That's due to our expansion in production and more payments ahead to manufacturers," said Paul Ling, CFO of Anta Sports. "In general, we are in a healthy financial status."
Don't miss: