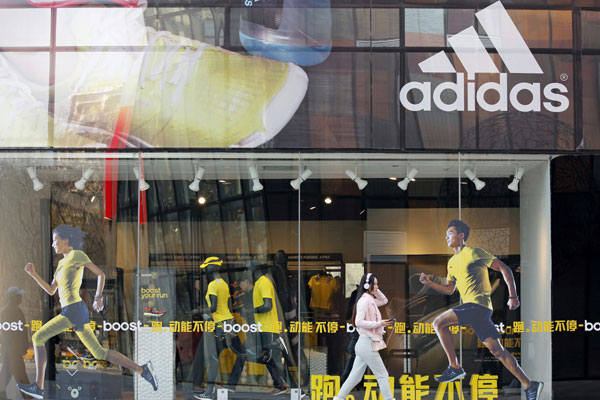 A woman walks past an Adidas shop at a shopping district in Beijing in March 25, 2013. [Photo/Agencies]
One might have assumed that the new Adidas store - a four-story building hosting all its brands - would be on New York City's Fifth Avenue.
But the first store to open as part of the new Adidas "Home Court" store concept sits in Beijing's Sanlitun area, an upscale retail center that is home to trendy fashion and high-tech brands.
"To stay at the heart of the fashion cluster indicates the brand's efforts to compete with rapidly growing fast-fashion brands and to enhance its access to fashion-loving consumers," said Hermann Ng, chief executive officer of Retail Nation, a consultancy in Shanghai.
The splashy renovation of the store, which reopened early last month, is designed to highlight Adidas' sports heritage, which dates back to 1930s Germany, when two brothers made sports shoes for athletes that included US Olympian Jesse Owens.
According to Ng, "The emphasis of sports and technology elements within the store and their products on display also suggests that they are expected to lift their brand value through the sports professional level."
Locating its largest store in the Chinese capital shows the significance the Chinese market holds for the sporting goods maker.
In 2012, China generated sales of 1.6 billion euros ($2.2 billion) and group sales reached 14.9 billion euros that year.
In the first nine months of 2013, sales in Greater China rose 7 percent year-on-year, with sales in the third quarter 2013 increasing 9 percent.