R&D boost
LiuGong's R&D and marketing network have grown robustly with the expansion of its business globally.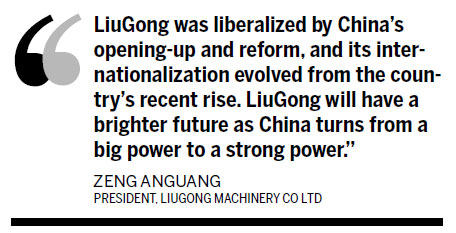 LiuGong set up its first overseas marketing company in Australia in 2004. It exported 850 complete machines in 2005, with export revenue of more than $36 million, rising by 162 percent year-on-year. This marked the first time LiuGong saw the value of foreign trade.
In 2006, LiuGong exported 1,455 complete machines, and its export revenue nearly doubled to $67.32 million. The figures rose to 4,284 and $216 million in 2008 and more than 10,000 complete machines and about $600 million yuan in 2013.
Its North America branch was established in 2008. Its branches in Latin America, Europe, the Asia-Pacific region, the Middle East and South Africa were operationally active by 2011.
LiuGong now has about 200 dealers in more than 100 countries and regions. The foreign market's share in LiuGong's total revenue rose from less than 2 percent some 10 years ago to about 30 percent today.
LiuGong signed a strategic agreement with McKinsey & Co Ltd to launch a new international expansion plan in September 2009, drawing on the professional assistance of the world-famous consultancy.
In October 2011, LiuGong established a joint venture with Guangxi Cummins Industrial Dynamics Corp and Cummins (China) Investment Co Ltd. This produced the first 9.3L non-road engine on March 14, 2013. It has since provided most engines for LiuGong's machines.
Engineers from LiuGong also closely cooperated in 2011 with engineers from ZF Group's headquarters in Germany and its China branch to analyze the drive axle problems of LiuGong's construction machinery. The German engineers successfully helped LiuGong to develop its design of the drive axles, cut the costs of the axle shell, and improve the efficiency of its flange oil seals and wheel gears.
In February 2012, LiuGong purchased the machinery production division of HSW Corp as well as its Polish branch, Dressta Co Ltd, for 335 million yuan.
HSW is famous for its production of quality bulldozers. Its production division has all serial bulldozer production lines from 74 to 515 horsepower as well as the production line of loaders from 120 to 427 horsepower.
Dressta is responsible for HSW's overseas sales and the import of spare parts. Dressta's marketing network stretches across more than 100 countries and regions. LiuGong obtained the global marketing network together with HSW's production line and expanded its global marketing capacity fast.
"We have to be prudent in overseas mergers and acquisitions because many Chinese enterprises have failed at it," said Wang. "We pay more attention to the targets' R&D capacity and marketing network."
There are also challenges involved in "going out" of China. The uncertainties in the market environments are affecting LiuGong more than before.