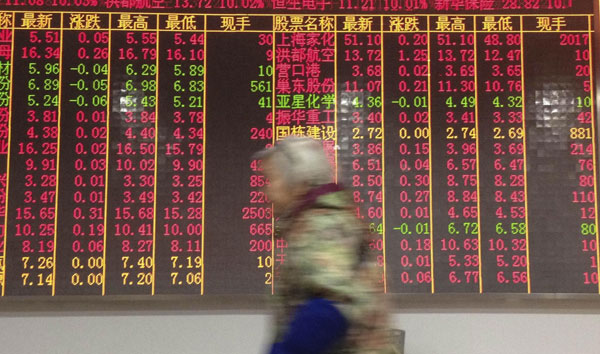 A shareholder passes the the information board in a brokerage office in Hangzhou, Zhejiang province, Dec 31, 2012. [Photo/Xinhua] 
Recent economic indicators such as industrial output, manufacturing activity and retail sales showed the economy is gathering momentum despite weak trade and curbed property investment.
Data released by HSBC on Monday showed that the purchasing manager's index for the manufacturing sector rose to a 19-month high of 51.5 in December.
The Chinese economy is on the track of recovery while the overall valuation of companies' shares is at a relatively low level, according to analysis from Yinhua Fund Management Co Ltd.
The Shanghai Composite Index has tumbled by more than 60 percent from its a record high seen in 2007.
Investors also look to more reforms by regulators to solve some problems of the market mechanism and boost their confidence.
The delisting of large numbers of junk shares and slower approval of IPOs were the top two bonuses most expected in 2013 by the netizens surveyed by Sina.com.
Stock delisting has been uncommon in China, making it hard for investors to withdraw investment in worthless shares. Massive IPOs are another target of blame as they strain the already inadequate fund supply.
The China Securities Regulatory Commission has launched reforms on those respects since its new chairman Guo Shuqing took the helm in October 2011, but substantive progress is yet to be made.
Meanwhile, some remain cautious about the challenges faced by China's economy and the pressure on listed firms' profits, according to Morgan Stanley Huaxin Fund Management Co Ltd.
A lukewarm property sector, unsustainable investment in infrastructure and piling local government debts may all contribute to drag the economy down in 2013, the company said.
"It's better to stay away from such speculation work. I'd rather withdraw my money from the stock market and put it into something profitable," a netizen identified as Tiandigeyi1945734907 wrote on Sina Weibo on Monday.
Special Coverage
CSRC to bolster up stock market
Related Readings
IPOs forecast to rise in 2013

Investment channels to be expanded

Signs of recovery doing little for stock markets

Foreign interest should help boost flagging bourses

Gloomy markets defy expected growth