Better economic figures, steady development to spur offerings
Small and medium-sized initial public offerings by Chinese companies will be popular in 2013 and overseas offerings will increase, according to reports.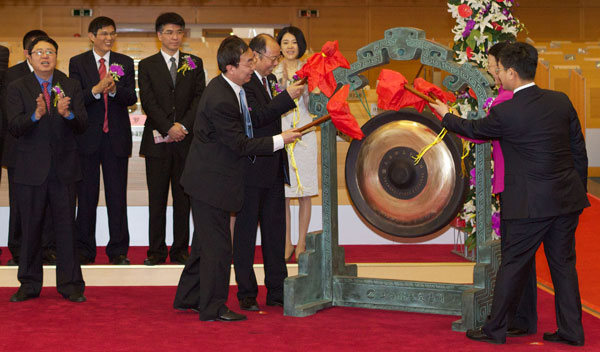 A listing ceremony at the Shanghai Stock Exchange in April. While only 154 Chinese companies have held domestic IPOs so far this year, small and medium-sized IPOs are expected to be more popular in the A-share market in 2013. Provided to China Daily
This is despite the numbers, and financing, for Chinese companies that are going public both declining sharply this year.
By Tuesday, only 154 Chinese companies have held domestic IPOs this year, raising total financing of 103.4 billion yuan ($16.6 billion), a year-on-year drop of 60 percent.
IPO launches on the Chinese mainland in 2013 will benefit from improved macroeconomic figures in the past two months and a steady development goal set by the central government this month, a report by the research agency China Venture Group said on Tuesday.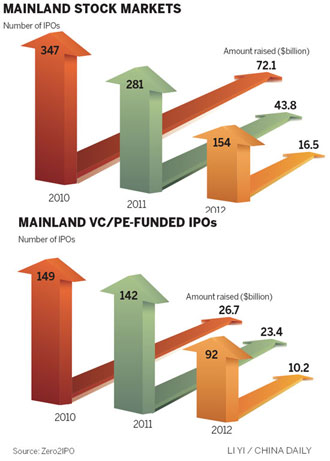 Small and medium-sized IPOs will be more popular in the A-share market next year after some large-cap Chinese stocks, including China Communications Construction Co Ltd and China Shipbuilding Industry Co Ltd, met obstacles to completing financing as planned, the China Venture report said.
Influenced by weak global economic conditions in 2012 and US-listed Chinese companies being hit by short sellers, only two Chinese companies launched IPOs in the US market, achieving total financing of $153 million, a decline of 90 percent year-on-year, the report said.
It added that the online seller Vipshop Holdings Ltd and social platform company YY Inc achieved strong performances, showing that US investors still have confidence in Chinese companies.
More Chinese companies can be encouraged and the number of IPOs in 2013 in the United States will increase, the report said.
Vipshop Holdings shares closed on Tuesday at $17.90, an increase of 175.4 percent compared with the offering price, while YY Inc closed at $14.29, an increase of 36 percent.
The European market has also become more attractive for Chinese companies to list. Nine have gone public in Germany and Britain this year.
A report by the Zero2IPO Research Centre on Tuesday said 42 companies in the Chinese mainland market saw their prices fall on the first day of their IPOs because the A-share market remained weak and investors were more rational about the price/earnings ratios of new shares.
The largest mainland IPO this year, that of China Communications Construction Co Ltd, raised $794.9 million, compared to $2.1 billion for the largest deal last year, the report said.
Some 837 Chinese companies were waiting for their IPOs to be examined and approved by Friday.
With the supply of A-share stocks limited, prices in the mainland market are usually higher than in Hong Kong's H-share market. But price differences between the two markets will be smaller in the long term, said Jing Xiaoda, a senior analyst at Essence Securities, speaking at the Beijing International Finance Expo this month.
caixiao@chinadaily.com.cn
Special Coverage
CSRC to bolster up stock market
Related Readings

China's IPO activity expected to pick up in 2013

IPOs expected to raise 30% more capital in '13
Mainland firms cash in on Hong Kong IPOs

IPO markets in HK, mainland challenged