New program will allow commercial banks to set up wealth management companies next year
Allowing foreign banks, insurers and other institutions to sell fund products will benefit the fund industry in the coming year, professionals said in response to information the regulator released about the industry in recent weeks.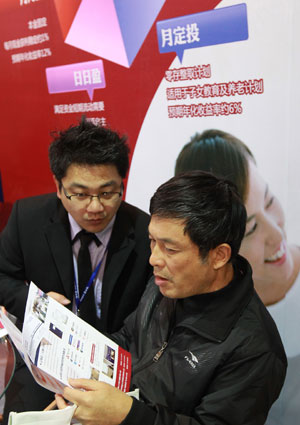 A visitor reads a fund product brochure at a fair in Shanghai. A test program will allow more banks to set up fund management companies. Pei Xin / For China Daily
The China Securities Regulatory Commission, the country's securities regulator, said on Tuesday that a test program approved by the State Council, China's cabinet, may allow more commercial banks to set up fund management companies.
Having more banks participate in the program will help develop channels through which savings can be transferred in an orderly way to the capital market, increasing the number of institutional investors, boosting the development of the fund industry and bringing more experience to the operation of urban commercial banks, the regulator said.
Li Ying, head of the commission's fund department, said in a conference call on Dec 18 that fund investment and fund sales will undergo significant changes, and that current amendments to the Securities Investment Fund Law are paving the way for the transformation.
Li said a wide variety of financial services institutions, including foreign banks, futures companies, insurers, insurance brokers and agents, will be allowed to sell fund products.
The current sellers include fund management companies, commercial banks, securities investment companies, securities fund companies and independent fund-sales institutions.
The issuance of fund products has been difficult in recent months amid the gloomy performance of the country's A-share market, said Luo Jingyan, a wealth manager with Shanghai Huashen Investment Consultancy Co Ltd.
The fund industry has also seen the size of its workforce decrease this year.
It was a bad year for almost everyone in the industry.
The poor performance of many fund products severely dampened investor confidence, and professionals in the industry saw their incomes decrease by up to 70 percent, said Tan Yanjun, a former fund product channel manager who quit her job in November.
"We have observed that fund products are seeing negative annual yields that may be as bad as 30 percent, and some investors have even closed their accounts in dismay," Luo said.
Luo said fund companies that are set up by banks tend to have a higher share of the market, in part because such institutions have more opportunities to recommend fund products to potential buyers.
wuyiyao@chinadaily.com.cn