Although one of the world's worst performing in 2012, China's stock market is still viewed by analysts as one of the top magnets for investors next year, reports Chen Jia
Global institutional investors are waiting for the perfect time to pitch themselves into the Chinese mainland stock market next year - a market that has seen an ongoing squeeze on capital, which has left many constituent companies undervalued.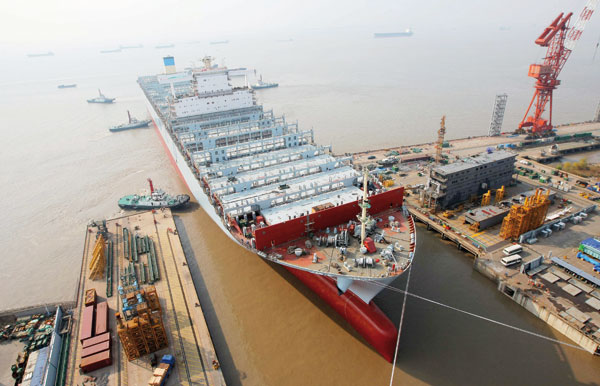 A container ship with a capacity of 13,000 TEU leaves from the COSCO Port in Nantong, Jiangsu province, in December. The ship was built by Nantong COSCO KHI Ship Engineering Co Ltd, a subsidiary of China Ocean Shipping (Group) Company. COSCO registered a loss of 6.4 billion yuan ($1.02 billion) in the first three quarters of this year, the largest among more than 2,000 listed companies in China. Ding Xiaochun / For China Daily 
A recent forecast from Reuters predicted that the Shanghai Composite Index will rebound by 17 percent next year, the strongest of the world's top 20 markets.
Another recent survey showed that more than two-thirds of 55 major asset managers worldwide view Shanghai as their top emerging market next year.
The basis of both bullish outlooks was the expectation that company profits will increase at a faster pace, and price-to-earnings ratios will rise in coming months, given that the Chinese economy managed to avoid anything like the nosedive in growth suffered by many other markets around the world.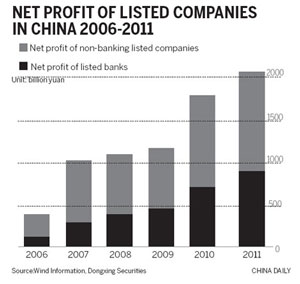 Sun Jianbing, Goldman Sachs' strategy analyst in China, said he expects public company profit margins to bounce back slowly as economic growth accelerates to 8.2 percent in 2013, against this year's estimate of 7.7 percent.
For companies tracked by the CSI 300, the capitalization-weighted stock market index designed to replicate the performance of 300 stocks traded in the Shanghai and Shenzhen stock exchanges, he said, "Profits may jump 9 percent year-on-year in 2013, against an estimate of only 1.2 percent this year."
According to Wind Information Co Ltd, a Chinese financial data provider, in the first three quarters of 2012, 86.8 percent of all the 2,471 companies listed on the A-share market reported positive net income, against 91.3 percent in the same period of 2011.
Their total net profit was 1.5 trillion yuan ($238 billion) during the January-to-September period, compared with 1.61 trillion yuan from a year earlier, a drop of 2 percent.
Special Coverage
CSRC to bolster up stock market
Related Readings
IPOs forecast to rise in 2013

Gloomy markets defy expected growth

Mixed views on whether shares can fall further

Stock tax reform 'may buoy market'