Modern farming can afford better returns than manufacturing
Many owners of manufacturing-based trading companies in Zhejiang province are investing in the modern agriculture industry for better profits because the gloomy economic environment has severely affected their businesses over the past year.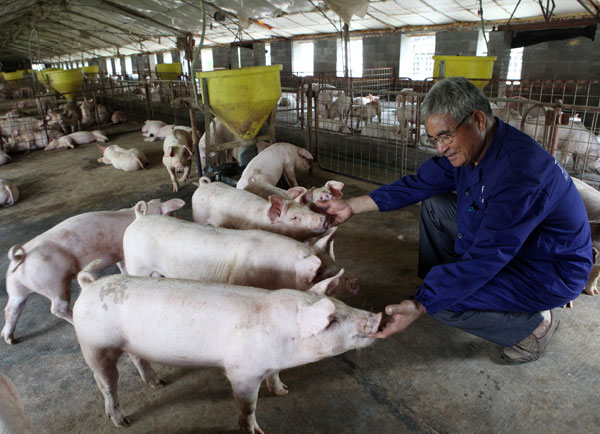 For many businesspeople in East China's Zhejiang province, revenue from the trading industry is withering. Quite a few have packed their luggage and gone to the countryside. According to statistics released by Zhejiang Provincial Administration for Industry and Commerce, the average annual amount of money invested in agriculture by Zhejiang businesspeople exceeded 10 billion yuan ($1.6 billion) over the past five years. The total amount reached 20 billion yuan last year. [Provided to China Daily]
Wang Sheng, 48, a businessman who has run a company producing lingerie for mainly European countries, especially Italy, over the past five years, has found it is no longer an effective way to make money as a long-term strategy.
Over the past two years, Wang, originally from Wenzhou, spent more than half of his working time researching the modern agriculture industry to prepare for the formal opening of his own farm next year in Guizhou province.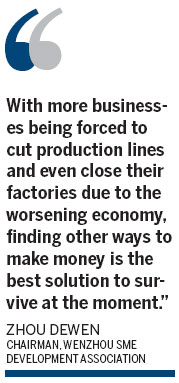 "Running a farm, living with animals and making money out of it has been a childhood dream that I never before had time to realize," said Wang, whose lingerie factory is in Dongguan, Guangdong province.
He is currently negotiating with the local government in Guizhou over an agreement to rent 88.7 hectares for 30 years to breed sheep and cattle and plant organic fruit and vegetables using his animals' droppings as fertilizer.
The rent is 150,000 yuan ($23,995) a year for the first five years and will be raised according to inflation.
"I will start with planting grass all over the farm and have 1,000 sheep as the first step next year," said Wang, who will operate the farm initially with a team of five.
Shutting down his clothing business and becoming a farm owner has been a strong ambition of Wang.
"The trading industry for textile products has reached a dead end without any sign of recovering from its misery, which was caused by the gloomy economic situation and tougher competition."
Wang added that it is the time to apply the management skills obtained from running a business to the innovative farming sector, which has potential to be profitably exploited.
As Wang's long-term plan for the next decade, he will farm high-quality animals to produce meat that has a good market value, such as the Angus, a type of cattle imported from abroad, the embryo of which is valued at 100,000 yuan.
"I'm going to have a team of 100 employees to run the farm as a small enterprise with organized departments and systems to ensure all the animals and the plants will continuously make profits," said Wang.