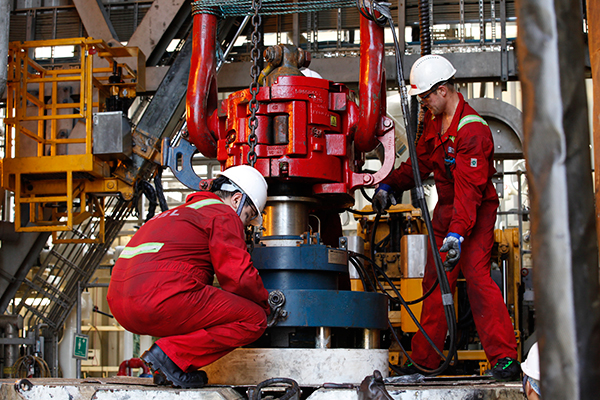 Employees of China National Offshore Oil Corporation work on its deepwater drilling platform in South China Sea. [Photo provided to China Daily]
China National Offshore Oil Corporation, the country's largest offshore oil and gas producer, warned that it will have its first half-year loss of 8 billion yuan ($1.2 billion) since becoming a listed company, due to a prolonged slump of oil prices and a write-down on its Canadian oil sands assets.
The offshore oil giant expects a loss for the first half-a big swing from a net profit of 14.7 billion yuan in the same period in 2015, according to a filing to the Hong Kong Stock Exchange on Thursday.
Shares of CNOOC in Hong Kong fell 0.28 percent to close at HK$9.28 ($1.19) on Friday. That was less than the benchmark Hang Seng Index's drop of 1.52 percent.
The Beijing-based company attributed the loss to the downward trend of crude prices, coupled with impairments and a write-down on oil sand projects, including those it acquired from the Canadian producer Nexen Inc in 2012.
"The cost of oil sand projects is so high that they were hit hard amid falling oil prices," said Han Xiaoping, chief information officer at China Energy Net Consulting Co, an industry consultancy in Beijing.
"Instead of huge investment in oil sands projects, I think CNOOC should have started putting more focus on clean energy like offshore wind power a few years ago," he said. "The company almost gave up the business in new energy, but it would have come off better with offshore wind power, because few firms have that capability like CNOOC."
Brent crude, the global benchmark, averaged about $41 a barrel during the first half of the year, down roughly 30 percent from the same period in 2015.
Other listed companies of State-owned CNOOC also reported huge losses. China Oilfield Services Ltd is projected to have a large deficit of about 8.4 billion yuan in the first half, putting it on the top of the loss league table of the A-share market.
"Low oil prices have dragged the company into an extremely severe condition. What we are going to discuss today is a matter of whether we can survive in the future," CNOOC Chairman Yang Hua was quoted in an earlier report.
"The prediction of a rising dollar would also put pressure on the already-bad situation of the domestic oil market," said Ma Jianyu, an analyst with market information provider chem365.net, adding oil majors will further cut production and spending.