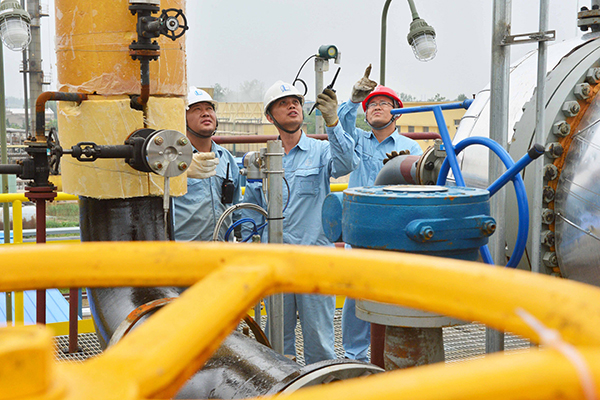 CNPC employees test facilities in Puyang, Henan province. [Photo/China Daily]
The top three State-owned oil companies in China will continue to cut production and enhance ownership reforms in 2016 as their net profits slumped amid sluggish prices in 2015, according to a leading energy expert.
Sinopec Group, China National Offshore Oil Corp and China National Petroleum Corp have seen their combined profits shrink by 59 percent to 87.97 billion yuan ($13.6 billion) in 2015, compared with the previous year.
Sinopec posted a 32.2-billion-yuan net profit in 2015, down 32 percent from 2014, according to the company's earnings report released on Tuesday.
CNPC and CNOOC achieved profits of 35.5 billion yuan and 20.2 billion yuan, respectively, in 2015, both down by more than 60 percent from the previous year.
"Cutting cost and production has become the common means of the top three oil companies to cope with the low oil prices," said Li Li, director of the research and policy center at ICIS, a petrochemical market information provider.
"In recent years, boosted by high oil prices of around $100 per barrel, the top three oil companies significantly expanded their business. Now that the oil prices have fallen to around $30 per barrel, they have been trying hard to bring the cost down," said Li.
The capital expenditure of the three has dropped by nearly 30 percent, or 172.4 billion yuan, in 2015 from the end of the previous year.
According to Li, the profitability of the exploitation sector will continue to be impaired by sluggish international oil prices. The profits generated by refining and retailing will likely increase. Natural gas and chemical engineering, which generate relatively more added value than crude oil, will become new growth point in the industry.
At the same time, the reforms and restructuring of the top three companies will go into deeper waters this year, said Li. The slumping oil prices will push the State-owned enterprises to restructure their assets and cut overcapacity. This year's ownership reform will move to the upper stream of the industrial chain, which is where the core interest lies in the oil and gas industry, Li said.
Sinopec was the first to launch the mixed ownership reform to introduce private and social investors into the State-owned business in February 2014. As of March 2015, 25 institutional investors had invested 105 billion yuan in Sinopec.
In March, CNPC signed a strategic agreement with e-commerce giant Alibaba Group Holding Ltd on online payment and on sharing user information. Sinopec has also announced plans to collaborate with Alibaba.
However, the complexity, the capital-intensive nature and the risks of the oil business have set high threshold for private investors trying to engage in the ownership reforms, according to Lin Boqiang, director of the China Center for Energy Economics Research at Xiamen University.