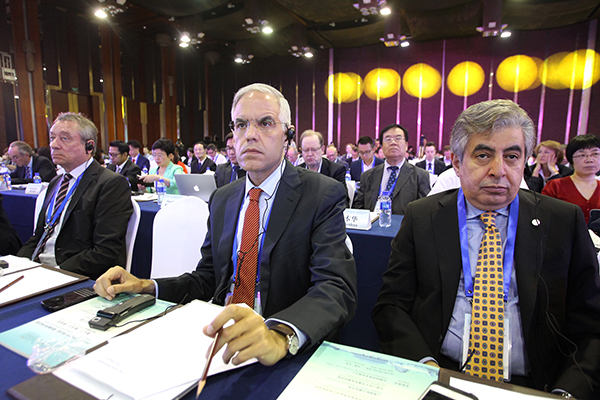 This year's T20 Summit has attracted some 500 experts and scholars from China and abroad. [Photo/China Daily]
China is a steadfast supporter of the multilateral trading system and has made positive contributions to the development of the system, said a senior expert who participated in the T20 Summit in Beijing.
Dong Yan, a senior fellow at the Institute of World Economics and Politics of the Chinese Academy of Social Sciences, made the remarks in an interview with China Daily prior to the two-day think tank event, which started on Friday.
The multilateral trading system refers to the General Agreement on Tariffs and Trade which was set up in 1947 and its successor the World Trade Organization that came into being in 1995. The system aims to boost international trade, regulate trade activities and solve trade disputes by organizing multilateral trade negotiations.
China is helping advance the WTO Doha round of multilateral trade negotiations, Dong said.
Wang Shouwen, vice-minister of commerce, said at the WTO's regular review of China's trade policy, which kicked off on July 20 and ended on July 22, that since its accession to the WTO in 2001, China has actively assumed its responsibilities as a major developing trading nation, having cut its overall tariff level from 15.3 percent to 9.8 percent and opened up 100 service sectors, according to Xinhua News Agency.
Wang said the country has also played an active role in the Doha Development Agenda negotiations and demonstrated its support for the multilateral trading system through constructive action and key initiatives.
With the rapid development of regionalism, China is also actively working to advance free trade agreement negotiations, which are archetypal regional economic cooperation mechanisms, Dong said.
She said a document released by the State Council in December noted that the accelerated development of free trade areas is a key aspect of China's new round of opening-up and the country must improve the construction quality of such zones.
Song Hong, a senior fellow at the Institute of World Economics and Politics at the Chinese Academy of Social Sciences, said, "As an emerging and rapidly-developing power, China should maintain an open attitude toward regional and plurilateral trade agreements and ensure that it participates in them in the widest possible sense."
A more practical approach to coordinating regional trade agreements and the multilateral trading system, which is an issue under discussion at the T20 Summit in Beijing, is to simultaneously support the liberalization process on "the two tracks" system, he said.
Song added that as the summit is taking place at a time when international trade is in decline, he hopes it will produce solutions that will boost world trade and the development of the global economy.