Innovation holds key to future of agriculture
By Lan Lan (China Daily)
Updated: 2012-11-14 07:48
Innovation in existing crossbreeding and cultivation technologies remains the future direction for China's agriculture, while transgenic technologies could mainly help resist pests or herbicides, said Han Guiqing, president of the Heilongjiang Academy of Agricultural Sciences.
Soybean production in Heilongjiang province, China's biggest granary, has been seriously hurt in recent years by the growing imports of transgenic varieties of the foodstuff.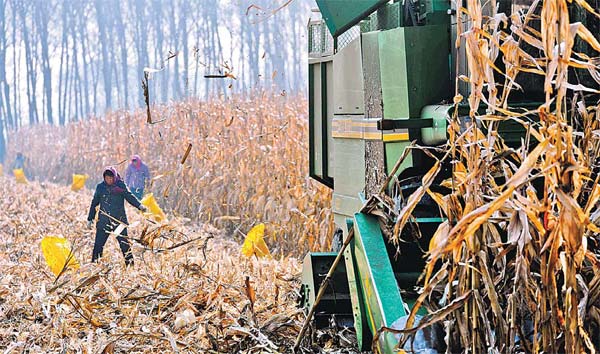 Farmers reap corn at Shuangcheng, Heilongjiang province in northeastern China, on Nov 1, 2012. [Photo/Xinhua] 
China has been a net importer of soybeans since the mid-1990s. Imported soybeans from the United States and Argentina are mainly genetically modified.
China's soybean imports increased 16.6 percent year-on-year to 48.34 million metric tons in the first 10 months, according to Chinese Customs statistics released on Saturday.
The planting area of soybeans in the country's main soybean supply base will continue to decline this year, said Han, who is also a delegate to the 18th National Congress of the Communist Party of China.
Farmers prefer to plant other crops, such as corn or other economic crops, as imported soybeans pulled down prices and made up the bulk of the market.
To compete with imported soybeans, the yield level of domestic soybeans must be enhanced, he said, adding that experts are studying new soybean varieties.
The planting area for wheat has also declined but corn output has increased year by year thanks to its better economic returns.
Excessive use of chemical fertilizer has caused serious soil pollution in China. Han said Heilongjiang's solution was to promote green agriculture and organic agriculture by taking advantage of its exceptional natural environment.
No genetically modified staple crops have been released or promoted in the province, Han said.
The government encourages research institutions to strengthen research capacity in transgenic technologies, but the country is not widely promoting any transgenic staple crops, he said.
"Genetically modified cotton has been grown in some areas, but transgenic staple crops are still in an intermediary stage between testing and promotion in China, meaning that they cannot be released and planted on a large scale before stringent evaluation," said Han.
China has granted biosafety certificates to two strains of pest-resistant GM rice and corn.
Although the government has yet to approve the use of GM technology, media reports say transgenic corn has been illegally planted in some areas.
Zhang Ping, minister of the National Development and Reform Commission, said on Saturday that China is expected to enjoy its ninth consecutive annual increase of grain output in 2012.
China's total grain supply in 2011 was 571.2 million tons, up 4.5 percent from the previous year, according to the National Bureau of Statistics. Heilongjiang accounted for around 10 percent of the country's total grain output.
Han urged the central government to lift the subsidy on commodity grain to further stimulate farmers' enthusiasm for grain production.
China has abolished the agricultural tax, and improved the agricultural subsidy system. Total investment in the agricultural sector from the central government over the past 10 years has exceeded 4 trillion yuan ($642 billion), according to the NDRC.
lanlan@chinadaily.com.cn