Xi opens 'project of the century' with keynote speech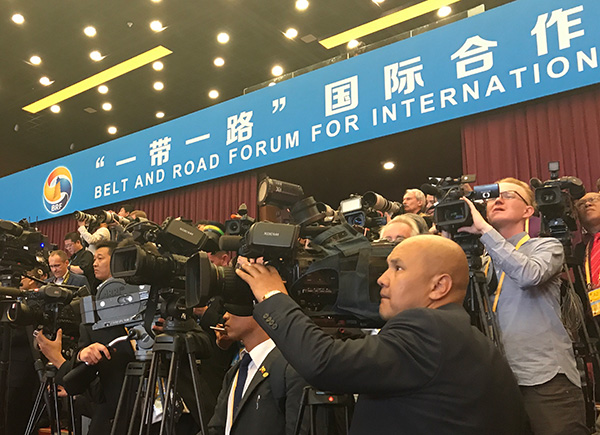 The opening ceremony of the Belt and Road Forum for International Cooperation is held in the National Convention Center in Beijing on May 14, 2017. [Photo by Xu Jingxing/chinadaily.com.cn]
To build Belt and Road into road for peace, prosperity
President Xi Jinping said the Belt and Road should be built into a road for peace, as the pursuit of the initiative requires a peaceful and stable environment.
"The ancient silk routes thrived in times of peace, but lost vigor in times of war. The pursuit of the Belt and Road Initiative requires a peaceful and stable environment," said Xi.
"We should foster a new type of international relations featuring win-win cooperation; and we should forge partnerships of dialogue with no confrontation and of friendship rather than alliance," he said.
All countries should respect each other's sovereignty, dignity and territorial integrity, each other's development paths and social systems, and each other's core interests and major concerns, said Xi.
"Some regions along the ancient Silk Road used to be a land of milk and honey. Yet today, these places are often associated with conflict, turbulence, crisis and challenge. Such state of affairs should not be allowed to continue," said Xi.
He called for fostering the vision of common, comprehensive, cooperative and sustainable security, and creating a security environment built and shared by all.
Xi also urged the Belt and Road to be built into a road of prosperity.
"In pursuing the Belt and Road Initiative, we should focus on the fundamental issue of development, release the growth potential of various countries and achieve economic integration and interconnected development and deliver benefits to all," he said.
He said, "We should establish a stable and sustainable financial safeguard system that keeps risks under control, create new models of investment and financing, encourage greater cooperation between government and private capital and build a diversified financing system and a multi-tiered capital market."
Stressing infrastructure connectivity, Xi called for promoting land, maritime, air and cyberspace connectivity, focusing on key passageways, cities and projects, and connecting networks of highways, railways and sea ports.
Mankind challenged by deficit in peace, development, governance
Deficit in peace, development and governance poses a daunting challenge to mankind, Xi said.
Humankind has reached an age of great progress, great transformation and profound changes, Xi said.
Global growth requires new drivers, development needs to be more inclusive and balanced, and the gap between the rich and the poor needs to be narrowed, he noted.
He also pointed out that hotspots in some regions are causing instability and that terrorism is rampant.