Xi opens 'project of the century' with keynote speech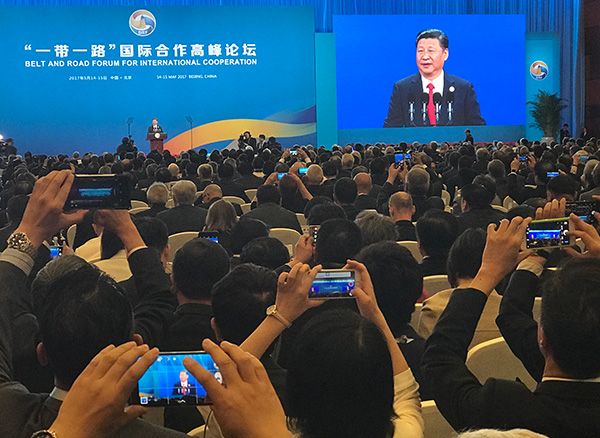 The opening ceremony of the Belt and Road Forum for International Cooperation is held in the National Convention Center in Beijing on May 14, 2017. [Photo by Xu Jingxing/chinadaily.com.cn]
China involved in major Belt and Road connectivity projects
China has engaged in the construction of several major projects to improve infrastructure connectivity under the Belt and Road Initiative, President Xi Jinping said.
China, in cooperation with relevant countries, has accelerated the building of Jakarta-Bandung high-speed railway, China-Laos railway, Addis Ababa-Djibouti railway and Hungary-Serbia railway, and upgraded Gwadar and Piraeus ports. A large number of connectivity projects are also in the pipeline, Xi said.
He noted that a multi-dimensional infrastructure network is taking shape, underpinned by economic corridors such as China-Pakistan Economic Corridor, China-Mongolia-Russia Economic Corridor and the New Eurasian Continental Bridge.
The network features land-sea-air transportation routes and information expressway and is supported by major railway, port and pipeline projects, Xi said.
China will set up a liaison office for the follow-up activities of the Belt and Road Forum for International Cooperation,said Xi.
Xi urged strengthening international counter-corruption cooperation so that the Belt and Road will be a road with high ethical standards.
China to contribute additional 100 billion yuan to Silk Road Fund
China will contribute an additional 100 billion yuan (about $14.5 billion) to the Silk Road Fund, said President Xi Jinping. China encourages financial institutions to conduct overseas RMB fund business with an estimated amount of 300 billion yuan (about $43.5 billion).
China will provide assistance worth 60 billion yuan ($8.7 billion) to developing countries and international organizations participating in the Belt and Road Initiative to launch more projects to improve people's well-being, said President Xi Jinping.
China to set up 50 joint laboratories along B&R
China will set up 50 joint laboratories with countries participating in the Belt and Road Initiative to enhance cooperation on innovation, President Xi Jinping said.
"We will launch the Belt and Road Science, Technology and Innovation Cooperation Action Plan," Xi said.
The action plan consists of the Science and Technology People-to-People Exchange Initiative, the Joint Laboratory Initiative, the Science Park Cooperation Initiative and the Technology Transfer Initiative.
In the next five years, China will offer young foreign scientists 2,500 short-term research visits to China and train 5,000 foreign scientists, engineers and managers.
China will also set up a big data service platform on ecological and environmental protection, and proposes the establishment of an international coalition for green development on the Belt and Road and will provide support to related countries in adapting to climate change.
The Belt and Road Initiative aims at building a trade and infrastructure network connecting Asia with Europe and Africa along ancient trade routes.