Chinese philosophy drives Switzerland
If there is any Western country that has achieved much success by applying ancient Chinese wisdom to its governance, it must probably be Switzerland, said Harro von Senger, a leading Sinologist.
Since the end of 1990s, von Senger, who works with the Lausanne-based Swiss Institute of Comparative Law, has been making efforts to decode the ways behind his country's governance tactics.
He found strong links to ancient classics by Chinese philosopher Lao-tzu, who lived more than 2,500 years ago.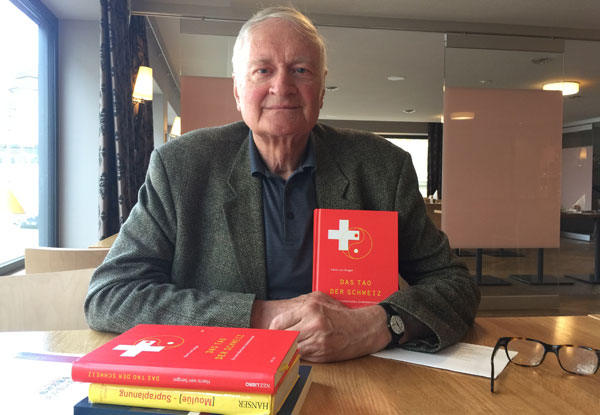 Harro von Senger
Von Senger, who is 73, has been reading Lao-tzu intensively ever since. His written reflections in German started taking shape in recent years. His book, The Tao of Switzerland, consists of six chapters and 70-odd pages of references, and was published earlier this month.
"Switzerland has realized Lao-tzu's ideal of governing a small country," said von Senger during an interview.
Sitting in the restaurant Bären in his hometown Einsiedeln, which is about one hour-train distance away from Zurich, von Senger pointed to the Benedictine abbey nearby, saying he obtained his 8 year middle schooling there.
But soon he shifted to more than 80 sayings of Lao-tzu, which he quoted in his book, using more than 1000 references to illustrate the linkage of Swiss success and China's ancient thoughts.
It is a successful country, and its success can be explained by the profound thoughts of Lao-tzu," said the 1.95-meter-high von Senger in fluent Chinese.
"Let there be a little country without many people." That is a line from the 80th chapter of Lao-tzu's work Dao De Jing. With a population of less than 9 million, Switzerland is the kind of country that Lao-tzu dreamed of in size, said von Senger.
Lao-tzu advocated to be weak, gentle, modest and inactive. He said, when a plant is starting to grow, it is small and weak, which is the sign of blossom; but when a plant is about to wither, it is big and stiffening, which is the sign of death.
"We are small and weak," said von Senger, who was born in 1944 and studied in Peking University in 1970s. "These are good things for us as far as we are not considered as dangerous by other countries."
In addition, von Senger said Switzerland has also practiced the thoughts of another famous Chinese thinker, Zhuangzi. The duo shaped the essence of Taoism.
Zhuangzi said in his work: "All men know the use of the useful, but nobody knows the use of the useless."
Switzerland profits from the use of the useless, von Senger said.
Citing the example of the Swiss army, which he said could be considered to be the most successful one in the world because it has not been defeated and never killed a single foreigner since more than 200 years.
"Thanks to our Taoist-like policy of neutrality which makes Switzerland "useless" for any foreign power and also thanks to good luck, the Swiss army has finally achieved such big success," he explained.
But he further emphasized his country's "uselessness" is "useful" for hosting, at the international level, international organizations in dozens and helping offer platforms in solving conflicts to contribute to the global peace and prosperity.
All these link to another important part of Daoism, which is moulüe. He said this thought has not been properly expressed in the Western languages.
So he coined an English word, "Supra-planning", which he says is higher than "strategic thinking" as many Western scholars have referred to.