Court blacklist derails debt defaulters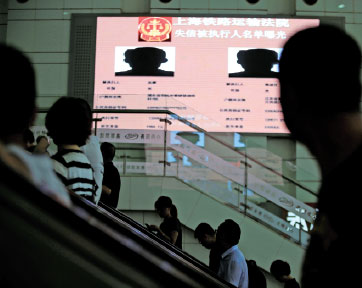 People pass an electronic screen displaying the personal details of debt defaulters at Shanghai Railway Station. Aly Song / Reuters
Restrictions
By the end of August, the personal details of nearly 5 million people in contempt of court, including their names and identity card numbers, were open to public scrutiny, according to the court's statistics. The measures mainly target debt defaulters who are able to repay the money but repeatedly refuse to do so.
Since June 2014, the top court has been collaborating with government departments, especially the rail and civil aviation authorities, to deny defaulters access to rail and air transport.
By Aug 31, the system had rebuffed more than 4.7 million attempts to purchase plane tickets, along with 1.55 million bids to buy seats on the high-speed rail network.
"What we want to do is make people who refuse to comply with court verdicts feel inconvenienced in every aspect of their lives," said Meng Xiang, director of the top court's bureau of verdict enforcement.
Meng said 44 government departments are currently working with the court, and the restrictions have been extended to areas such as online shopping, running businesses and buying real estate: "Our goal is to contribute to the establishment of a 'merit system' in society."
Information network
In recent years, Yang, the judge in Beijing, has witnessed a change in the way verdicts are enforced.
"In 2010, our court didn't even have an internal network to share information about defaulters, let alone a platform that would allow us to work with banks and government departments," he said. "I had to visit banks several times a week to discover what properties a debtor owned."
Now, a high-speed network that links courts with banks means properties can be detected with just a few clicks of a mouse, according to Yang.
In September, the central leadership issued a regulation ordering government departments to coordinate enforcement with the courts to further strengthen the merit system.
The rule stipulates that people in contempt of court will face restrictions if they apply for government subsidies, and they are barred from working in the financial sector or becoming board members of State-owned enterprises, resulting in more than 66,000 suggested appointments being blocked.
They also face tougher exams if they apply to join the civil service, the army or the Communist Party, and they are not allowed to stay at hotels rated three-star or higher. The children of defaulters are barred from studying at expensive private schools.
Zhou Qiang, president of the Supreme People's Court, has repeatedly stressed that adoption of the measures should be a priority for grassroots courts, with the aim of solving the problem within three years. "Cases only end for litigants when they are repaid," he said.
Along with the merit system, technological developments have made it easier for the courts to track defaulters, according to Yang.
"A prosecutor's role is to pursue defaulters, but we used to find it hard to keep up with them because they used high-tech equipment to keep one step ahead. We have only recently started using similar equipment and techniques. At the same time, we need other players, such as the industrial and commercial authorities, to help us block them or tell us where they are," he said. "When people in all walks of life combine against those who refuse to accept court verdicts, we'll win the day."