City's sex industry booms despite repeated crackdowns, report Qiu Quanlin in Dongguan, Cui Jia, Tang Yue and Yang Wanli in Beijing.
On a chilly Monday afternoon, Wang Dandan walked idly around the Yuanfeng Hotel in Zhongtang, a township in Dongguan, Guangdong province, where she worked for just one month at the end of last year.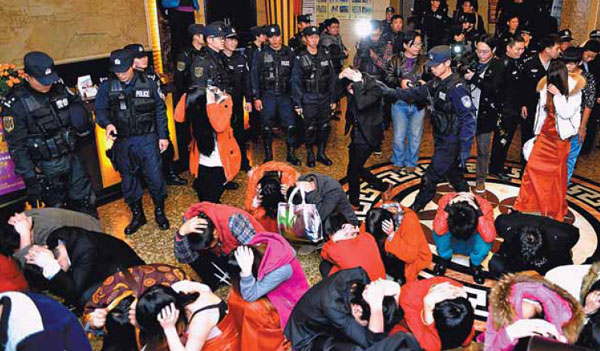 Police arrest purveyors of sex, along with many prostitutes, on Sunday in a crackdown in Dongguan, Guangdong province. Liang Guanhua / for China Daily
The hotel door was sealed, with an official banner signaling that operations had been suspended. A security guard made his rounds.
"The guard told me the hotel was closed and many of my colleagues were being investigated," Wang said.
The hotel, which lies between Zhongtang and the Guangzhou suburb of Xintang, was one of 12 entertainment venues authorities say were involved in prostitution and other illegal sex services.
On Sunday, the Ministry of Public Security and police in Guangdong announced an anti-prostitution crackdown in five Dongguan townships after a television news report exposed rampant underground sex trade in the city during the Spring Festival holiday.
Wearing Chinese-brand sneakers and dragging a red suitcase, Wang, 21, and another woman of about her age had no idea what they would do in coming days.
"We came back this morning. We were on the train, but we did not know what happened here," Wang said, declining to disclose the job she had held at the hotel.
Dongguan, in the heart of the Pearl River Delta, is a manufacturing and trade hub. It also has a reputation for lavish underground casino resorts, bath centers, massage parlors and back-street brothels. It's been said that the city has set the gold standard for the world's oldest profession - prostitution.
Media reports estimate that at least 300,000 people work in the sex industry in Dongguan, even though organizers of prostitution risk prison sentences of five to 10 years.