Goodbye Olympic gold, hello happiness
Updated: 2012-08-15 16:42:36
By Guan Xiaomeng ( chinadaily.com.cn)
| | | | | | | | | | | |
| --- | --- | --- | --- | --- | --- | --- | --- | --- | --- | --- |
|   | | Comments() | | Print | | Mail | | Large Medium  Small | 分享按钮 | 0 |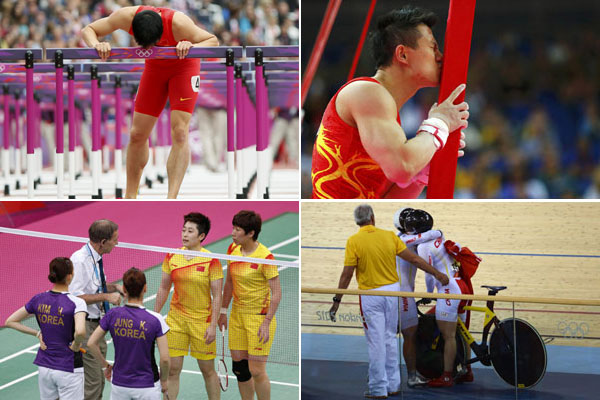 (Clockwise from top left) Liu Xiang kisses the last hurdle in his lane during his men's 110m hurdles round 1 heat August 7; Chen Yibing kisses the apparatus after competing in the men's gymnastics rings final in the North Greenwich Arena August 6; Tournament referee speaks to players from China and South Korea during their women's doubles group play stage Group A badminton match at the Wembley Arena July 31; Guo Shuang and Gong Xinjie hug each other after finding they were relegated to silver in the track cycling women's team sprint final at the Velodrome August 2. [Photo/Agencies]
I was changing channels tired of the lauding for Liu Xiang smeared across the Olympic coverage when the remarks of a BTV anchorman stopped me in my tracks. "Liu Xiang does not owe us a gold medal but we owe him a normal life".
His tragic fall and injury may remain a source of gossip, but it will surely be impossible for the fallen hurdler to lead an ordinary life after his first triumph was followed by two Olympic disasters.
He seemed the only man secure to win China a track gold for the last three Olympics.
But should we always desire gold from the same superstar? That seems unfair to him and also to the other promising and hard-training athletes who want their chance to shine.
I strongly disagree with those who attributed the "Olympic spirit" to Liu's luckless hop to the finish line. The "Olympic spirit" should mean other things in modern times like humanism with more respect and care for athletes. Do we have to watch an athlete grimace and tumble to embody the "Olympic spirit" and carry "national glory" in the modern Games?
Olympics founding father Pierre de Coubertin said sport is honor to be "won in absolute fairness and with perfect impartiality" and to "promote happy relations between people". Unfortunately, most athletes honor has been marred by power plays, political bias and snobbery.
Gymnast Chen Yibing's shockingly low ring score handed gold to under-performing Arthur Zanetti whose country will host the next Olympics. Special treatment for the future host or repayment for China "exceeding" in gymnastic gold on home turf four years ago?
Silver medalist cyclists Guo Shuang and Gong Xinjie left the velodrome with a gold-winning time in the women's team sprint track but lost because of an unspecified violation. The team's appeal letter and video review were turned down for no reason. But an intentional fall by the British men's team sprint cyclists earned them a restart and eventually the gold medal.
If a gold medal is the only criterion for success in the Olympics, could we attribute China's badminton historic gold sweep partly to Yu Yang and Wang Xiaoli's "deliberate" round-robin loss?
The much-criticized format, reportedly introduced by the sport's federation in order to prevent China's gold-silver finish in women's doubles, sowed the seed for the biggest scandal in the sport's 20-year Olympic history. Team officials wanted favorable draws while organizers wanted to avoid a lop-sided result. The eight players' Olympic dreams came last.
After the historic lead on the medal tally on home turf four years ago, China's sports authority has been playing down the pursuit of gold and tally ranking. I hope the change of values could persist towards more healthy, humanized and peaceful development.
In that vain, we'd better leave Liu Xiang at peace and cultivate new hurdlers while creating a clean and pure environment for competitive sport to "promote happy relations between people" – and thankfully some are happy.
Fans smiled in delight at Sun Yang and Park Tae-hwan's friendship in the men's 200m freestyle as the pair, dubbed arch rivals, shared silver. The battle between Lin Dan and Lee Chong Wei for the gold ended with Lin's success again, but fans believe great rivals make for a great match and sport.
The much-coveted men's basketball final between the peerless US "dream ten" and European champion Spain was my final serving in the London Olympic feast and perhaps the most poignant of all.
Two of the greatest men in basketball – victorious Kobe Bryant and his Lakers teammate but Olympic rival Paul Gasol – engaged in a brotherly and peaceful hug.
Oh, if only all sport stories had such a happing ending!