Youth has its say as new age dawns
Updated: 2012-08-14 03:11:47
By Sun Xiaochen in London ( China Daily)
| | | | | | | | | | | |
| --- | --- | --- | --- | --- | --- | --- | --- | --- | --- | --- |
|   | | Comments() | | Print | | Mail | | Large Medium  Small | 分享按钮 | 0 |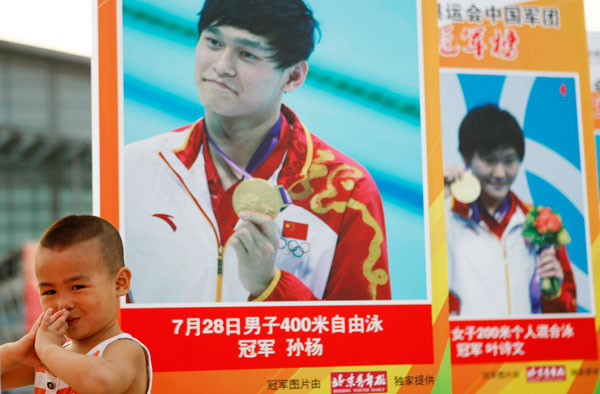 Life-size portraits of champion swimmers Sun Yang and Ye Shiwen look out from the Olympic Green in Beijing. However, plans to honor them in their hometown of Hangzhou, Zhejiang province, by erecting statues have sparked controversy. [Photo by Liu Guanguan / China News Service]
Stars are ready to challenge the world both on and off the track
Chinese Olympians have been stars on and off the track at the London Games and have buried the image of reluctant heroes who perform feats of wonder but shy away from publicity.
Youth may have something to do with it.
Led by swimming sensations Sun Yang and Ye Shiwen, 99 athletes, who were born after 1990, claimed 16 of the 38 gold medals won by the 396-strong delegation.
Chinese athletes had a reputation for being reluctant to face the media. It wasn't just their personalities that seemed bland, they often dressed the same and blended into a background of collective solidarity.
However, the sports stars of today are media savvy and do not hesitate to express themselves. Drawing strength from predecessors and their spirit of commitment, those born after 1990 boast much better physical condition and have benefited from Western coaching technique and expertise.
Success in new sporting endeavors has accompanied golden moments in more traditional pursuits.
Following the world-record surge of Sun and Ye in the pool, Chen Ding, 20, added gold in the men's 20km walk, the second gold in men's track and field for China. The first was won by hurdler Liu Xiang in 2004.
Badminton star Li Xuerui, 21, popped up to stun world No 1 Wang Yihan in the final, while fencer Sun Yujie, 20, steered her contingent to win the women's epee team title.
But what really impressed the world was much more than gold. The personalities and confidence of the young stars have broken the stereotype of the strong but silent type.
Youth: Rising generation tech and media-savvy
"The new generation has more personality," said Cai Zhenhua, vice-minister of sports. "They are more willing to accept new things, can easily get along well with foreign athletes and have plenty in common."
Born in 1961, Cai won several table tennis world titles in the 1980s.
One example of the new confidence was Sun's attitude before the Games.
Sun didn't hide his golden ambition, vowing to beat archrival Park Tae-hwan of the Republic of Korea despite his team leader asking him to be cautious.
"What if I lose to him? Only diffident people should think about it and I won't buy it," Sun said before the Games.
Sun won both the 400m and 1,500m freestyle gold medals.
When Ye's superb performance was questioned, Sun fought back, citing US teenage swimmer Missy Franklin's super fast 200m backstroke.
"What if people didn't congratulate her and cheer for her but, rather, questioned her, as they did Ye? How would she feel?" Sun asked.
Neither are emotions something to be ashamed about.
Celebrating his epic 1,500m win, Sun slashed the water after touching the wall as US great Michael Phelps did at the Beijing Games, and cried in front of the media when he recalled the effort needed for success.
Chen started to celebrate his victory in the walk with spectators 500 meters before the finish line.
"I knew it (the gold medal) was already mine when I still had 3 kilometers to walk," Chen said after the race.
Weightlifter Lu Haojie, 22, lifted the 77kg-class silver medal with an elbow injury, but did not hide his disappointment.
"Honestly, the level of the Olympics is much lower than our national championship. It's a pity I injured myself during the event," Lu said.
Their generation also knows how to surf, and that has nothing to do with the water.
Boasting more than 10 million followers, Sun routinely posts what he does and his whereabouts on weibo.
"It provides a good and free way for Chinese athletes to communicate with friends, teammates and even strangers," said Wang Yongzhi, who heads the Olympic program for Tencent, which boasts more than 400 million micro-bloggers.
About half of the 396 Chinese athletes in London have a weibo account, Wang said. Almost all of those born after 1990 are regular weibo users.
Contact the writer at sunxiaochen@chinadaily.com.cn