Bringing it home? Nope
Updated: 2012-08-06 08:59:31
By Chen Xiangfeng in London ( China Daily)
| | | | | | | | | | | |
| --- | --- | --- | --- | --- | --- | --- | --- | --- | --- | --- |
|   | | Comments() | | Print | | Mail | | Large Medium  Small | 分享按钮 | 0 |
Two Chinese weightlifters won gold for other countries; it's within the rules
The world's weightlifting chief said he has no problem with young Chinese lifters changing their nationality to compete for other countries - as long as it's done within the rules.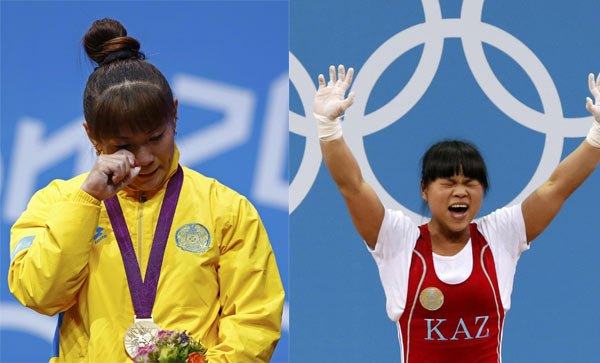 Gold medal winning weightlifters Maiya Maneza (left) and Zulfiya Chinshanlo of Kazakhstan are both originally from China. Hassan Ammar / Associated Press
"If this is the policy of China and if China is willing to help other countries, (it's OK), because China has many young and talented lifters," Tamas Ajan, the president of the International Weightlifting Federation, said in an exclusive interview with China Daily.
"But we have a very clear rule. If a lifter has competed for one nation in international competitions before he or she wishes to change nationality, then the two national federations, the two national Olympic committees and the IWF should all get involved to reach an agreement.
"But if a lifter changes nationality without any international experience for his or her original country, there is no problem for us."
Ajan was commenting on Kazakhstan's two Olympic gold medalists, Maiya Maneza and Zulfiya Chinshanlo, who are reportedly originally from China.
Ajan said the IWF didn't interfere because neither had competed for China.
"Actually, I did not hear this before you told me," the 73-year-old Hungarian said. "It's not against the rules as long as they did not play for China before. It's not against the rules, and it's (the nature of) globalization. Like youngsters who were born in Hungary, then they can go to Germany and play for Germany."
Maneza (whose Chinese name is Yao Li) won the 63kg category, in which China did not field a competitor. Chinshanlo took the 53kg title, in which 17-year-old Chinese Zhou Jun failed on her first three attempts.
It immediately became a hot topic in China - why would the nation send such promising young athletes abroad?
Chinshanlo is reportedly on a five-year contract, which will allow her to return to China this year if she chooses. Since China does not accept dual citizenship, even if Chinshanlo claimed her Chinese citizenship immediately after returning to China, she would still have to wait five years before she could represent China in international competitions.
Ajan said competing for China could be problematic for Chinshanlo.
"This is a problem. First, Chinshanlo must have permission from Kazakhstan and then there must be an agreement among the federations, and Olympic committees and the IWF. The IWF must be involved."
No sure thing
China won eight of the 10 gold medals on offer at the Beijing Olympics, but it didn't repeat the glory at the London Games.
Ajan thought China would win more but still thinks it has performed impressively.
"I expected six or seven gold for China," he said. "But it is still a fantastic result. You cannot compare it to what happened in the Beijing Games. That was on home soil. China is still very strong. I'm quite optimistic about the sport in China."
Of course, as the sport's international head, Ajan is happy that more countries are sharing the gold.
He said China is no longer assured of winning every event.
"China has to accept the situation that more and more countries are coming up against you," he said.
"Usually, if you see a Chinese lifter in a competition, boy or girl, you think it's 100 percent (that they will win). Now, it's not exactly 100 percent. Do not think that China is always strong in every category. Do not think only China can win.
"Other countries are catching up. The Games are now more competitive. Weightlifting is spreading all over the world. Even very small countries came up to compete here like Papua New Guinea, Nauru, Kiribati, Samoa."
One of Ajan's biggest challenges now is finding a way to host more international events so the sport and its lifters can gain wider exposure.
"Our players do not have many events every year," he said.
"Some of them might have only two or three chances to compete on the international stage. It's our problem. If you want to make stars and top competitions, more events and exposure are needed. Like Roger Federer in tennis, if he plays two times a year, nobody will know him. He has to play lots of events every month. Rafael Nadal is the same."
Contact the writer at chenxiangfeng@chinadaily.com.cn