It's not doping that wins races, Sun says
Updated: 2012-08-06 07:52:18
By Sun Xiaochen in London (China Daily)
| | | | | | | | | | | |
| --- | --- | --- | --- | --- | --- | --- | --- | --- | --- | --- |
|   | | Comments() | | Print | | Mail | | Large Medium  Small | 分享按钮 | 0 |
Chinese swimmer vehemently denies allegations after setting world record
China's sensational swimmer Sun Yang fiercely denied doping speculations that arose after he broke his own record to win gold in the men's 1,500m freestyle at the London Olympics.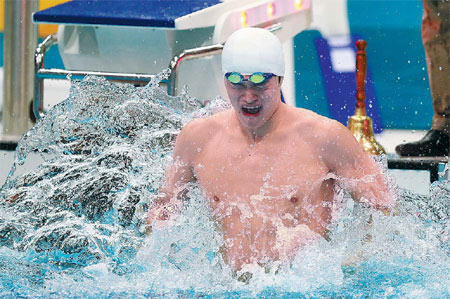 China's Sun Yang reacts after he wins gold in the men's 1,500m freestyle final in world record time at the Aquatics Center of the London Olympic Games on Saturday. Sun clocked 14 minutes, 31.02 seconds. "This is the event I most wanted to win, and all my effort paid off at this moment," he said. Cui Meng / China Daily
The suspicions have persisted nearly a week after Chinese swimmer Ye Shiwen set a record in the women's 400m individual medley, as pundits continue to question the current anti-doping system's competency.
Sun smashed the decade-old 1,500m world record at last year's Worlds in Shanghai and shaved 3.12 seconds off that record in London, claiming his second gold medal at the Games with a time of 14 min, 31.02 sec.
When media asked him about doping, Sun reminded them that US prodigy Missy Franklin's 200m backstroke result had also been considered "too fast to believe".
"How could she (Franklin) swim as fast as a butterfly swimmer did over the same distance?" Sun asked.
"I believe her result came from her hard work."
The 17-year-old Franklin shattered the world record to claim her third gold medal in the women's 200m backstroke, finishing in 2:04.06 - the same time Chinese swimmer Jiao Liuyang clocked to win her 200m butterfly title.
China Central Television swimming commentator Han Qiaosheng pointed out the butterfly stroke is much faster than the backstroke, and Franklin's performance was a phenomenon, too.
"What if people didn't congratulate her and cheer for her but, rather, questioned her, as they did Ye? Would she feel happy?" Sun said.
"I think we proved Chinese swimming stands high in the world, and we made it entirely through the same hard work that other athletes did."
Sun could not contain his emotions after his win and wept in the pool.
"This is the event I most wanted to win, and all my effort paid off at this moment," he said.
Sun attributed his success to extremely tough training under renowned Australian coach Dennis Cotterell. He awoke at 4:30 am every day and spent every moment in the pool that he wasn't sleeping or eating.
"It was grueling, and I struggled to deal with it every day," Sun said.
But a false start almost ruined his chances at the event. The fans were so loud that they distracted Sun, and he could hardly hear the buzzer, so he jumped into the pool before the other swimmers.
Because of the crowd's boisterousness, the referee didn't eject him and allowed him to redo the event.
"I didn't hear the judge very well because of the noise," Sun recalled. "I thought I was going to be disqualified. I was so scared. My mind went blank."
Sun regained his momentum after the first few legs and established a big lead ahead of the others. At that point, he was only competing against his own record.
"My coach told me to fight for the record, and I also believed it was my best chance to break it," Sun said, in the mixed zone.
"I don't think anybody can threaten me in this event."
Canadian Ryan Cochrane finished second with 14:39.63, while defending champion Oussama Mellouli of Tunisia grabbed the bronze, coming in 9.29 seconds behind Sun.
Sun has become China's most successful swimmer and joined the ranks of its sports elites, such as champion hurdler Liu Xiang and former NBA star Yao Ming, by bagging two golds, one silver (200m freestyle) and a bronze (4x200m freestyle relay) in London.
He promised not to become distracted by activities outside of the pool, such as such commercial assignments, endorsement events and media interviews.
"I am still young and don't want too many titles," the 22-year-old said.
"I'll try to be myself and stay focused on what I'm supposed to do."
Just hours after his perfect Olympic debut, Sun already set a higher goal - approaching Michael Phelps' Olympic gold tally of 18.
"I think only Phelps can define the great in swimming," Sun said.
"He has won so many medals in just three Games. While I can't match him, I have some gas left in my tank and really want to challenge my limits. So, I'm really looking forward to the 2016 Rio Games."
Contact the writer at sunxiaochen@chinadaily.com.cn