Foreign legion plays role in winning campaign
Updated: 2012-08-06 07:28:05
By Sun Xiaochen in London (China Daily)
| | | | | | | | | | | |
| --- | --- | --- | --- | --- | --- | --- | --- | --- | --- | --- |
|   | | Comments() | | Print | | Mail | | Large Medium  Small | 分享按钮 | 0 |
They could be dubbed the sporting foreign legion and, appropriately, French coach Daniel Levavasseur is one of them.
He helped the women's epee team win an Olympic gold medal on Saturday and is one of more than 20 foreign coaches hired to help Chinese athletes hunt for gold, silver and bronze.
The strategy has been pretty successful, so far.
China, along with the US, heads the medal table, and foreign coaches have helped Chinese athletes conquer the world in sports normally associated with the West.
But winning formulas do not happen overnight. It takes years of blood, sweat and tears and trust must be established.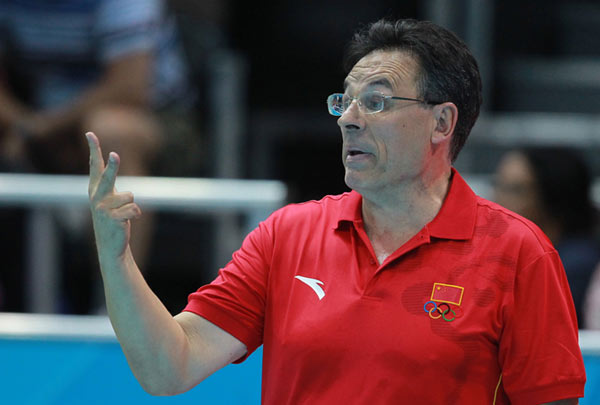 Juan Jane Giralt, Spanish coach of China's women's water polo team. [Photo by Cui Meng/China Daily]
Juan Jane Giralt, the Spanish coach of the women's water polo team, said that trust is the very first step to success.
"There may be too much emphasis on gold medals and too much hard, hard work," Giralt, told China Daily on Friday. Sometimes it feels as if you are expected to win gold, and nothing else will do, he said.
Dubbed the "water polo godfather", the Spaniard carried great expectations to London after driving the little-fancied squad to a historic silver medal at the World Championships in Shanghai last year.
However, three straight losses in the pool stage dampened expectations.
Players were disappointed but remained firmly supportive of their outspoken mentor.
"Yeah, he really blamed us for some mistakes we made, not for the poor results but for the way we played," Ma Huan-huan, the team's top scorer, said. "But he still motivated and praised us and made us believe in ourselves."
Giralt has been a controversial figure since joining the team in 2007 for the Beijing Olympics. He is known for his passionate coaching and tough training regime.
The energetic Spaniard does not pull punches and will target any player that he thinks is not giving their utmost.
Team leader Liu Qinlong, Giralt's busy interpreter, must both translate and comfort.
The World Championships showed just what could be achieved.
"Once his strict demands produced good results, players seemed more cooperative," Liu said.
Women's hockey has also seen the benefits of bringing in expertise.
Kim Sang-ryul, who took the helm from compatriot Kim Chang-back after he led the team to silver in Beijing, also struggled to earn the trust of his players even after he guided the male side for more than four years. The 57-year-old worked hard on his Chinese-language skills and was not hesitant about offering forceful advice on the pitch but was always mild-mannered off it, to build up team spirit.
"During training, I would not smile and I always have my sunglasses on," Kim Sang-ryul said after China's 1-0 loss to defending champion the Netherlands on Thursday.
"I must be strict (in practice) so they can learn and improve. I stay 24 hours with them and try to be a family member off the pitch," Kim Sang-ryul said.
Robert Donewald Jr, American coach of Chinese men's basketball team. [Photo by Cui Meng/China Daily]
Foreign coaches must contend with the language barrier, culture shock and a different management philosophy before they can get around to passing on their tricks and ideas.
That's led to a new approach: Chinese athletes are being sent abroad to train with foreign coaches overseas.
The swimming team that won 10 medals, including five gold, in London is a good example.
China has recently begun sending its best swimmers for lengthy training camps in Australia every year. Renowned coach Denis Cotterell helped fine-tune swimming prodigies Sun Yang and Ye Shiwen, both double gold medalists in London. Australian coach Ken Wood, United States former world-record-holder Mike Burton and Britain's David Lyles all plied their trade with China as well.
Chinese track and field also looked abroad, sending its coaches to Europe.
The latest gold proves they might be on to something.
Under the guidance of Italian race-walking expert Sandro Damilano, Chinese walker Chen Ding claimed the title in the 20km on Saturday to become the country's second men's gold medalist in track and field, following Liu Xiang.
Damilano also coached Liu Hong to a silver medal in the women's 20km at last year's Worlds.
"I've learned a lot from him on aerobic endurance - he's played an important role in my career," Chen said after the victory.
Among those foreigners are also New Zealand shot put coach Kirsten Hellier and German discus coach Karl-Heinz Steinmetz.
Steinmetz coached veteran Li Yanfeng to a bronze medal on Saturday, another major achievement after Li's gold at the Worlds last year.
"Our athletes improved their fitness and endurance significantly with foreign coaches' advanced methods," said Du Zhaocai, director of the national track and field administrative center. "We will stick to the Chinese-foreign combination to benefit more athletes in the future."
Contact the writer at sunxiaochen@chinadaiy.com.cn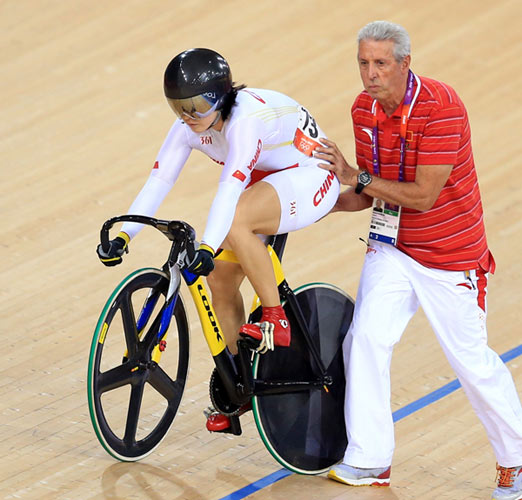 Daniel Morelon, French coach of China's women's cycling team. [Photo by Cui Meng/China Daily]