Hot on web
Updated: 2012-08-03 07:35:51
( China Daily)
| | | | | | | | | | | |
| --- | --- | --- | --- | --- | --- | --- | --- | --- | --- | --- |
|   | | Comments() | | Print | | Mail | | Large Medium  Small | 分享按钮 | 0 |
@Ma Lin
"Very harsh competition in sports, especially in the finals between teammates. Can they share the title?"
Chinese table tennis player Ma Lin on the competition between Chinese teammates Ding Ning and Li Xiaoxia
@Zhang Yining
"I know that Ding Ning also plays very well!"
Former Olympic table tennis champion Zhang Yining on Ding losing the finals
@Denghuade
"Wow! 4 million (followers) now! Thank you to all the fans for the love and support. It means a lot to us. Today is another big day for Team China - I hope you will be proud of our efforts against Australia."
Chinese men's basketball coach Bob Donewald on the growing number of fans on his micro blog
@Guo Wenjun
"Is it 8 o'clock London time? I'm still not sleepy."
Guo Wenjun, the Chinese champion in women's 10m air pistol, after returning to Beijing from London
@ladygaga
"@McKaylaMaroney i mean id totally never be ready for 2016. the outfits alone would take 5-6 years of planning. oh and the training!"
International pop icon Lady Gaga showed her appreciation for American gymnast McKayla Maronye
@jtimberlake
"OKTable tennis is officially my favorite event. #Olympiceventsthatshouldinvlovebeer"
US pop star Justin Timberlake on the women's table tennis final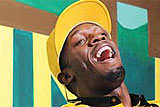 @usainbolt
"The month of 'glory' is upon us"
Jamaican sprinter Usain Bolt on the upcoming track and field events
@paugasol
"The book that I'm reading talks about adversity and leadership! I'm not sure if there's an English version of it!"
Spanish basketball player Pau Gasol, who spent some time reading ahead of Spain's game against Great Britain
@MichaelPhelps
"Just got a pretty cool phone call on the way to the pool from Mr. President @BarackObama !!! #USA"
US swimmer Michael Phelps, who received a phone call from US President Barack Obama
@themichaelowen
"Huge respect to the Rowers. Anybody who has pushed themselves to exhaustion on a Rowing Machine will know it's the hardest event physically."
British soccer player Michael Owen on the rowing event
@rioferdy5
"Team GB are set up to play modern international football, packed the midfield, retaining the ball, attacking with pace from wide."
British soccer player Rio Ferdinand on the British soccer team
@ryanlochte
"Shout out to @Matt_DeLancey the best trainer in the world. Thanks for everything especially those painful Sundays! #hardwork."
US 400m medley swimming gold medalist Ryan Lochte
@sebcoe
"2 golds. Delighted. Winning is infectious."
London Games chairman Sebastian Coe reacting to Britain's first gold medals