A little bit of China in everyone
Updated: 2012-08-02 07:40:11
By Sun Xiaochen ( China Daily)
| | | | | | | | | | | |
| --- | --- | --- | --- | --- | --- | --- | --- | --- | --- | --- |
|   | | Comments() | | Print | | Mail | | Large Medium  Small | 分享按钮 | 0 |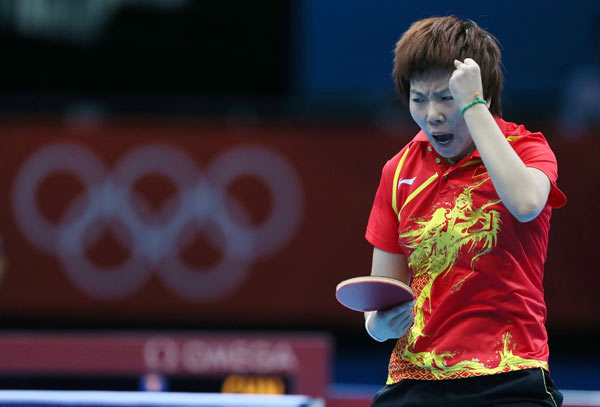 China's Li Xiaoxia gestures during her table tennis women's singles match against compatriot Ding Ning at the London Games at The Excel Centre on Wednesday. Li won the gold, 4-1. CUI MENG / CHINA DAILY 
Many other countries' rosters dotted with former national-team players
They might be wearing other nations' flags, but half the 16 players in the women's singles table tennis tournament at the London Olympics are former Chinese national or provincial team members.
Most hit a wall in their progress in China and found homes on teams that gave them a clearer path the Olympics.
One problem: Are they blocking the development of young players on their new teams?
Maybe. Maybe not.
Donald Parker was head coach of England's squad at three Olympics, from 1988-96.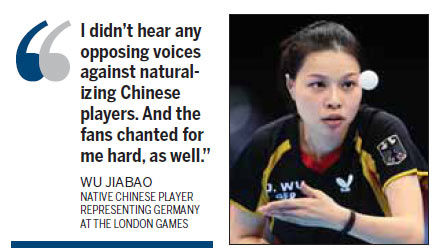 "It's great to have fantastic players from abroad so the young guns can learn from them," he told China Daily on Monday.
"There will be the downside. If I was replaced by some Chinese player, the negative way (to look at it) is to complain it's not fair. But the key is to treat it positively.
"They will be great practice partners. They can improve the level of the country. You have to get the best out of it, and then you can benefit."
Liu Na is the only Chinese player on Britain's team.
Having grown up in Northeast China's Liaoning province, Liu went to Northern Ireland in 2000 to play in a tournament and returned the following year to coach.
She made it her home and obtained British citizenship in 2008.
"I came back in 2001 to coach in schools and clubs. I was also learning English. I really liked it here in Britain," she said.
"It was different from my home in China. Initially, the level was low, and there weren't that many schools involved. But after 10 years we have many more people playing table tennis."
Competing in the team event, Liu said it's always been her dream to play in the Olympics.
Wu Jiaduo had similar motivations.
Wu, 35, went to a German club to continue her career after graduating from the East China University of Science and Technology, dreaming of the Olympics.
"I didn't have a chance to be recruited into the national team because the competition is too tough (in China)," said Wu, who used to be a member of the Zhejiang provincial squad.
"The decision was a hard one, but I am happy that I've attended the Olympics twice. If I stayed in China, it would have been impossible."
Wu finished 17th in the singles competition at the Beijing Games.
She began studying German based on her English. Wu said the country is more accepting than she'd anticipated, and she has made a number of local friends.
"They don't take it that way (being unhappy that I'm on the team)," Wu said.
"If you beat them decently on the court, they will respect you and try to learn from you. I didn't hear any opposing voices against naturalizing Chinese players. And the fans chanted for me hard, as well."
A renowned European urged other players to accept the influx of Chinese.
"I don't think most of the countries welcome the Chinese, but it's really wrong that you say it's bad," said Austrian Werner Schlager.
"It's wrong because you don't use it and learn from it. Who's the No 1 country in terms of knowledge of table tennis? China. So we should learn from and use their players."
Meanwhile, the overseas troops have been giving China headaches.
With a team made up entirely of former Chinese players - including top 10 players Li Jiawei and Feng Tianwei - Singapore's women's team stunned China at the 2010 Moscow Worlds to grab the title, and will expect at least a podium finish in London.
Still, China will be tough to beat.
"I still have a strong feeling that China will sweep all the gold. But they are already beginning to help other countries, and it's vital for the sport," said Peter Hubner, a Press-Agency Germany sports reporter who has been following Chinese table tennis for 20 years.
sunxiaochen@chinadaily.com.cn