Yves Volte: 16-year-old F4 driver wants to be a 'good chap'
Editor's note: Chinese racing enthusiasts might feel excitement equal to being on the track, as they were able to have a glimpse of several promising young Formula 4 drivers at the FIA F4 Chinese Championship in Ningbo, East China's Zhejiang province, this past weekend.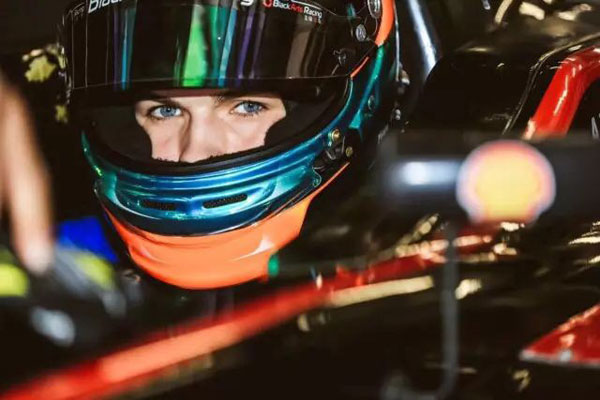 German F4 racing driver Yves Volte prepares himself for the final race of the FIA F4 Chinese Championship in Ningbo, East China's Zhejiang province, Oct 29, 2017. [Provided to chinadaily.com.cn]
It's easy to recognize Yves Volte, the 16-year-old German F4 racing driver, among the talented teens with heavy helmets and reaching breakneck speeds at the Ningbo Int'l Speedpark. Just look at his pace advantage.
Having missed 6 of 21 races by this year's FIA F4 Chinese Championship, Yves still got a total of 239 points but failed to rank in the top 3, missing by a 3-point margin.
"I am not happy with the last race on Sunday, but I felt pretty satisfied with my final result as I didn't race the whole season, like many of my Chinese rivals did," Yves said, explaining his Saturday-used F4 tyres went slower and lap times increased.
Sharing a similar pronunciation with the original German, Yves said in an interview with China Daily website his Chinese name is "Wu Yifu", his given name being adopted from a traditional Chinese poem written by historical figure Li Bai during the Tang Dynasty (618-907).
"Yifu" means one man could hold a pass against 10,000, serving as a symbol of being strong and powerful. The name has also been tagged as a person who never gives up, and that certainly is the case with Yves, who is "not as happy as I am if I can no longer drive in a race car," he said.
Yves said he was "deeply affected" by his father Denis, who was also a racing driver but now has become his son's technical adviser and coach. Earlier in 2009, Yves followed his father's footsteps to join the racing team.
"It is a family tradition handed down tome, as both my grandparents love cars and motor sports," talked Yves, hoping to preserve his family's deep motor-loving culture.
In 2012, the then 14-year-old German driver got third place at a Hungarian go-karting championship, and just three years later secured his crown at the Hungarian Open Class.
"Yet I didn't practice it so much, except at F4's in-season test and off-school periods," said Yves, adding that the running cost of the high-speed, purpose-built F4 tracks is a lot higher.
The fee for a race could be as much as 100,000 yuan ($15,000), while the F4 racing car is sold for at least 400,000 yuan ($60,000), according to Feng Shen, a staff member from the F4 event organizer, Beijing-based auto-racing firm MITIME Group.
Despite the higher charges, Yves' family showed great respect and support for their son's racing career. "My parents never push me. If they find something I do love, they will give me 100 percent support," Yves said.
For the young driver, racing is not as dangerous as outsiders like his parents think. "The technique is safe now, and I know I can control the car well," he said
In 2014, Yves and his parents moved to Beijing. The then-10th-grade student managed to adapt to his new lifestyle in China and fine-tuned the balance of school and race.
"I was told how insanely crowded China has been, but people here are all so friendly since I made my F4 racing debut last year in Shanghai," Yves said.
The teen said he was still running on a high preparation for next season's races, and hopes to be a man of taste but a thoroughly good chap all-round just like his idol, French professional rally, racing and rallycross driver Sébastien Loeb.
"He is the best at everything, but he never tried to be 'the best man'," Yves added. Indeed, "Low-profile" was the impression he got of the 43-year-old French driver, when Loeb met the younger driver in Paris in 2010.