Belt and Road Initiative to provide hard and soft connectivity: Sri Lankan Foreign Minister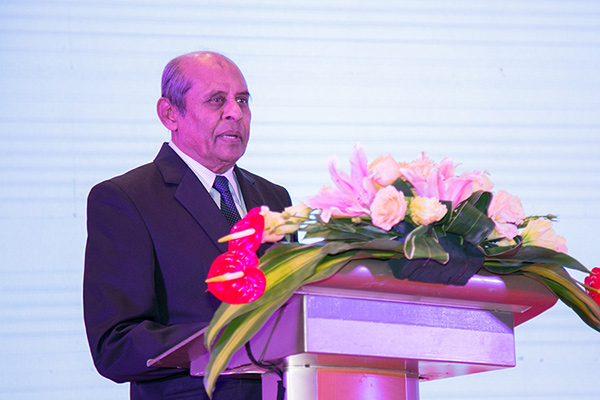 Tilak Marapana, visiting Sri Lankan Foreign Minister, speaks at a celebration marking the 60th anniversary of China-Sri Lanka diplomatic relationship and the 65th anniversary of the Agreement on Rice for Rubber held by the Sri Lankan embassy in Beijing on Oct 31, 2017. [Photo provided to chinadaily.com.cn]
The Belt and Road Initiative proposed by China will provide hard and soft connectivity in the Indian Ocean that is required for rapid economic and social development, especially in Sri Lanka, said visiting Sri Lankan Foreign Minister Tilak Marapana on Tuesday.
He made the remark at a celebration marking the 60th anniversary of China-Sri Lanka diplomatic relationship and the 65th anniversary of the Agreement on Rice for Rubber organized by the Sri Lankan embassy.
"The longstanding, close and friendly relations between the two countries are built on a solid foundation of historic, economic and cultural ties based on friendship, cooperation, mutual trust and understanding and respect for the territorial integrity of the two countries," said Marapana.
He also noted that Sri Lanka is very keen to reach an early conclusion to the Free Trade Agreement with China in the near future that would expand more trade avenues for both countries.
Karunasena Kodituwakku, the ambassador of Sri Lanka to China, said at the event that his Chinese friends are fully aware about Sri Lanka, its popularity as tourist destination, historical as well as contemporary warm friendship between our two countries.
"Both countries have assisted each other whenever necessity arose," said Kodituwakku. "I wish most sincerely to see friendship between our countries to become more and more stronger."
Kodituwakku also said that China has now committed to the global community, and is prepared to share the prosperity it has accomplished in the past two decades with the rest of the world.