Giant panda sleeps through much of Indonesia media debut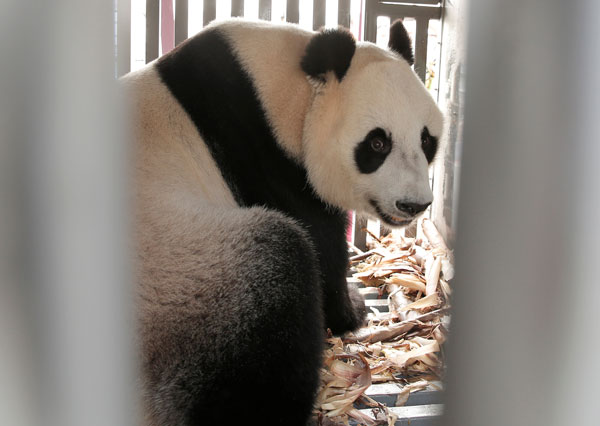 A giant panda on a 10-year loan from China is seen during a welcoming ceremony at Soekarno Hatta airport in Tangerang, Indonesia, Sept 28, 2017. [Photo/Agencies]
BOGOR, Indonesia - Giant panda Cai Tao was asleep for much of his debut before media Wednesday in the Indonesian city of Bogor, but occasionally perked up to eat bamboo.
Cai Tao and a much more active female, Hu Chun, were shown in their specially built enclosure to reporters as part of preparations for allowing the public to visit them at Taman Safari zoo starting later this month.
The pair arrived in Indonesia in late Sept from Chengdu in China and were quarantined at the zoo in Bogor, just outside the capital, Jakarta.
The zoo hopes the 7-year-olds will mate and add to the giant panda population.
It's built a special enclosure and facilities that cost about 60 billion rupiah ($4.5 million).
Zoo director Jansen Manansang said he's "very optimistic they can breed here next year or the year after."
In an outdoor play area, Hu Chun walked around the green landscape, climbed rocks and contentedly munched on bamboo.
The living quarters for Cai Tao and Hu Chun, built to resemble a Chinese temple, are equipped with an elevator, sleeping area, medical facilities and indoor and outdoor play areas.
Manansang said the "palace" will be the pair's home for about 10 years under a breeding loan agreement between Indonesia and China. Any offspring would be given to China, he said.
There are fewer than 1,900 giant pandas in their only wild habitats in the Chinese provinces of Sichuan, Shaanxi and Gansu.
AP