Visa rules seen as deterrent
By He Dan ( China Daily Europe )
Updated: 2014-06-27 07:32:10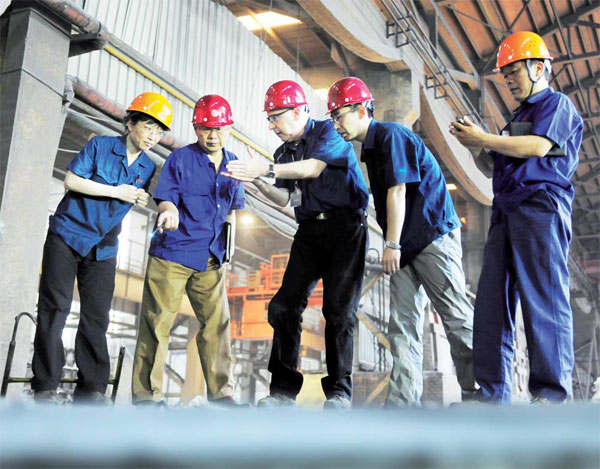 Ivo Botto (middle), a technical officer at Citic Heavy Industries Co in Luoyang, Henan province, discusses cast steel processing with Chinese colleagues at a company workshop. Botto, 61, a US citizen, was recruited by the company as an expert because of his technological expertise. Huang Zhengwei / For China Daily
Experts urge easier access to permanent residency for foreigners
For China to attract top talent from overseas, it must provide a more friendly migration policy, the director of a think tank says.
China, with impressive growth fueling its status as the world's second-largest economy, has become a magnet for foreign talent. But Chinese permanent residency is considered one of the most difficult to obtain in the world, says Wang Huiyao, director of the Center for China and Globalization.
The country has issued only about 5,000 residency permits to foreign applicants since its permanent residency policy was put in place in 2003, Wang says.
By contrast, the United States issues about 1 million such visas each year, he says.
Meanwhile, China is also suffering from a brain drain as 9.34 million Chinese have moved overseas, many of them prized by foreign employers because they are well educated and skilled. In China, only about 849,000 foreigners have legal status, he says.
The country needs a more open policy to bring in talent, regardless of place of origin, President Xi Jinping said when he met 50 foreign experts from 22 countries to discuss China's development and talent policies.
On June 9, addressing the country's top academicians and scientists at the biennial conference of the country's two top think tanks, the Chinese Academy of Sciences and the Chinese Academy of Engineering, Xi said China should hunt for the brightest minds globally, and then import them to maintain the country's trajectory of scientific and technological innovation.
Thanks to such attention from the country's top leadership, Party and government departments are moving to amend their migrant policies to attract skilled expatriates, Wang says.
The chief purpose of the migration system is to attract foreign migrants who are highly skilled and needed for China's economic and social development, says Zhang Jianguo, head of the State Administration of Foreign Experts Affairs, who gave the keynote speech at an international symposium on migration in Beijing on June 16.
To achieve that, China must consider its policies carefully and develop a talent list that reflects the country's long- and short-term needs for foreign professionals by region, occupation and industry, Zhang says.
Zhang says his administration is also working on introducing a points system to evaluate individual applicants' knowledge, skills, adaptability and contribution to the country's long-term economic development. Efforts will be made to protect domestic workforce when attracting highly skilled migrants.
China should lower the permanent residency criteria for skilled foreigners by abolishing the rigid requirement that they hold senior job positions and spend at least a minimum amount of time working in the country, says Wang of the globalization center.
Rules on approving applications for Permanent residency in China now stipulate that applicants should have worked in China in deputy general manager or associate professor/researcher positions and have been in China for at least three years, and have a good record of tax payments, to qualify for the skilled migration category.
It is also important for China to allow foreigners to apply for permanent residency through Chinese embassies abroad, Wang says. The country should similarly set up more offices at home that can facilitate foreigners' applications.
China should also speed up legislation to make clear how anyone granted permanent residency can obtain citizenship, as no clear regulations cover this, Wang says.
A government agency dedicated to handling affairs related to immigration, similar to the Citizenship and Immigration Services in the United States, should be established to improve the process, he says.
Given the growing number of foreign students studying in China, it is urgent to introduce policies that enable foreign graduates from Chinese universities to get working permits and permanent residency to be granted to foreign graduates who display more than two years of excellent work performance, he says.
hedan@chinadaily.com.cn
(China Daily European Weekly 06/27/2014 page14)

We will not give up search, Li vows
International hunt for missing airliner continues after fruitless six-day search