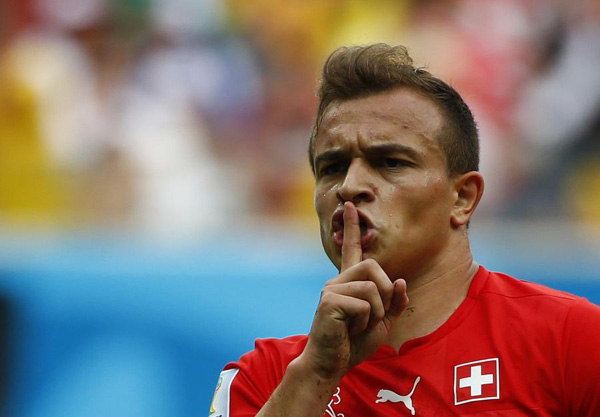 Switzerland's Xherdan Shaqiri celebrates after scoring a goal during the 2014 World Cup Group E soccer match between Honduras and Switzerland at the Amazonia arena in Manaus, June 25, 2014. [Photo/Agencies]
MANAUS, Brazil - Bayern Munich player Xherdan Shaqiri's stunning hat-trick sent Switzerland into the top 16 of the Brazil World Cup as they beat Honduras 3-0 in the final round of Group E here on Wednesday.
Switzerland's demise last week from France has found the team in a rather precarious position before the final round as they need to beat Honduras at all costs and hope that Ecuador do not beat the possibly indifferent group leaders.
Shaqiri eventually leads Switzerland into the knock stage with two wins and one loss. France and Ecuador finished 0-0 to secure Les Blues' spot atop Group E with seven points and Ecuador's exit with only three points.
Honduras never seemed to be able to find a way through the Swiss backline and they go back home with three consecutive losses.
In the round of 16, Switzerland will face Argentina while France take on Nigeria.
The Swiss got off to a blistering start as Shaqiri found the ball home only six minutes into the game. The attacking midfielder of Bayern Munich showed some great individual skill to beat a defender and then blasted the ball past a helpless goalkeeper Noel Valladares into the top corner.
The 23-year-old Shaqiri scored again in the 31st minute as he was found alone by teammate Josip Drmic before calmly sending it in the lower corner. In the 71th minute, it was Drmic again who found Shaqiri alone in the area before he finished past Valladares with little trouble.
Shaqiri's hat-trick is the first Swiss player to score multiple goals in a World Cup match since 1954.
Honduras's best chance came on 52 minutes. Their striker Jerry Bengtson had already beat the Swiss goalkeeper Diego Benaglio, but Swiss defender Ricardo Rodriguez kept his team clean sheet intact with a last-second goal-line clearance.