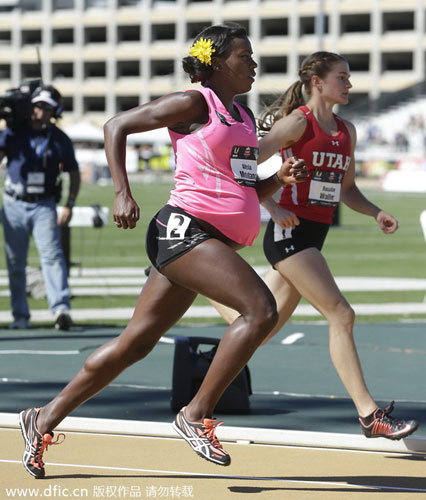 Alysia Montano, left, who is 34 weeks pregnant, competes in the quarterfinals of the 800 meters in the US outdoor track and field championships in Sacramento, Calif, June 26, 2014. [Photo/IC]
SACRAMENTO -- Thirty-four weeks pregnant, Alysia Montano ran the 800 meters Thursday in the US Track and Field Championships.
The five-time national champion finished in 2 minutes, 32.13 seconds in the qualifying rounds, only seven weeks before she's scheduled to give birth to her first child.
That Montano finished last in her heat didn't matter one bit to the crowd gathered at Hornet Stadium. Trailing the lead pack by more than 120 meters for most of the race, Montano received a rousing ovation as she finished her first lap and the cheering grew louder when she finally crossed the finish line.