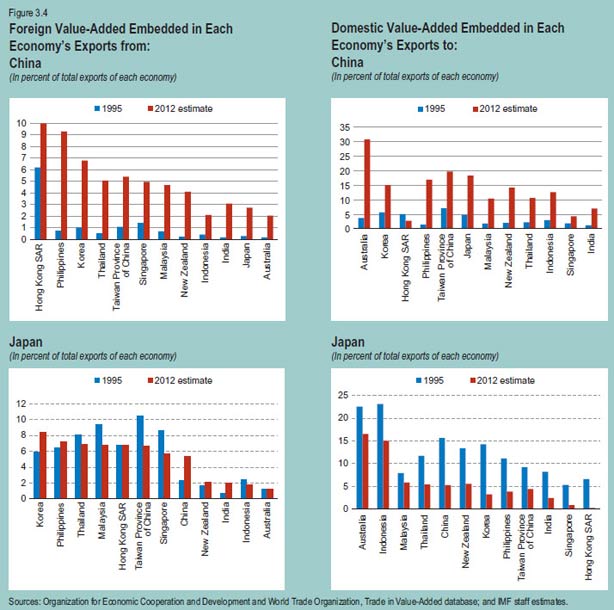 China is now playing a pivotal and increasingly integrated role in the Asia-Pacific, as value-added trade between China and the region surged in the past two decades, while trade between Japan and the region declined, according to a recent IMF report.
All 11 export-led economies in the region, except for Indonesia, have shifted their focus to China, with value added volume far outstripping that to/from Japan, according to the International Monetary Fund that compared data from 1995 to 2012 in a report - Regional Economic Outlook: Asia and Pacific - released on April 14.
Malaysia's exports to China, for instance, accounted for 10 percent of its total volume in 2012, doubling that in 1995. However, its exports to Japan fell to 6 percent from about 25 percent during the same period.
That reflects the region's growing economic dependence on China - a major change in the past 20 years considering that most of these nations relied mainly on Japan in mid 1995s.
IMF figures not only reveal the rapid growth of China's economy in the Asia-Pacific, it also shows how quickly Japan's economy has declined because of the Plaza Accord of 1985, in which Japan's decision to raise the exchange rate of yen led to its economic stagnation later that decade.
The nature of integration with partners, though, differs between China and Japan, with China specializing comparatively more in activities such as assembling, even though the country is now increasingly moving up the value chain, and Japan in upstream activities providing various intermediate goods as inputs, the report said.