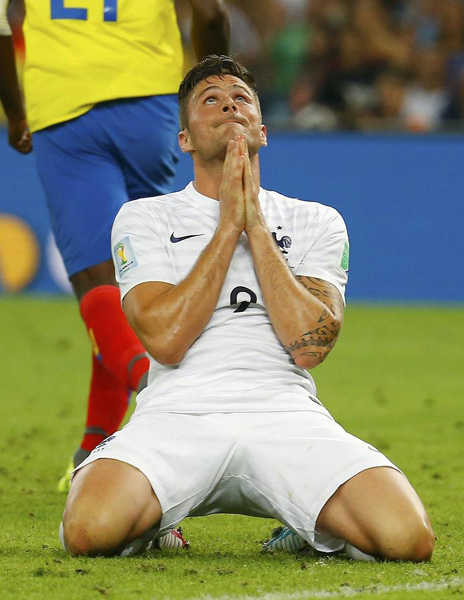 France's Olivier Giroud reacts after missing to score against Ecuador during their 2014 World Cup Group E soccer match at the Maracana stadium in Rio de Janeiro, June 25, 2014. [Photo/Agencies]
RIO DE JANEIRO - France's much-vaunted attack missed a series of chances as it drew 0-0 with 10-man Ecuador to reach the knockout stage of the World Cup on Wednesday, while the South Americans bowed out of the tournament.
In the other final Group E game, Switzerland defeated 3-0 Honduras to finish in second place behind the French.
France, which ended with seven points, had scored eight goals in two games and 39 in its previous 11. But the finishing on Wednesday lacked sharpness against a spirited Ecuador side which threatened all game on the break.
"I'm proud of what the players have achieved," France coach Didier Deschamps said. "We didn't take our chances, but that takes nothing away from our joy. We had to be vigilant against an Ecuador side that was quick and looked dangerous even with 10 men."
A win would have given France three group-stage wins for the first time since 1998 - the year it won the tournament on home soil. That looked odds-on after a 3-0 win against Honduras and a 5-2 rout of Switzerland.
"Some people thought we were the kings of the world," Deschamps said. "But all matches are difficult. Argentina had a difficult match against Nigeria (winning 3-2). These are high intensity matches and it's difficult to qualify."
France next faces Nigeria on Monday.
"It's a huge satisfaction to finish top, but it's not over," Deschamps said. "Nigeria is a solid and quick team, so it will be a very hard match."
Striker Karim Benzema did well again in his link-up play but should have added to his three goals so far.
"We did well in front of goal in previous games. We had chances but their goalkeeper made some good saves," Benzema said. "I hope we put them away against Nigeria."