Indonesia reopens Bali airport, downgrades flight alert level
JAKARTA - The Indonesian Transport Ministry on Wednesday decided to resume the operation of International Ngurah Rai airport in Bali island after three-day closure as flight alert triggered by volcano eruption has been lowered one level from the highest, an official said.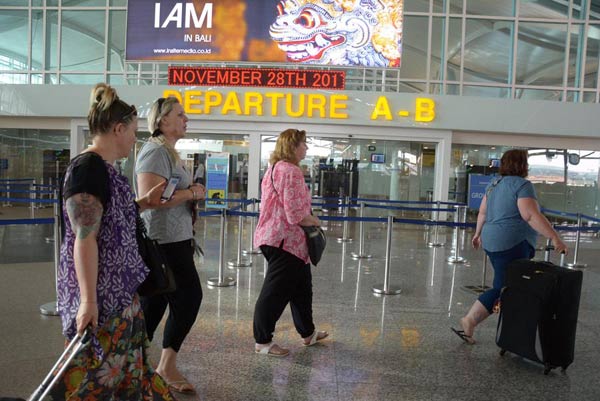 Tourists walk while looking for flights as Ngurah Rai airport is closed due to the eruption of Mount Agung, in Denpasar, Bali, Indonesia November 28, 2017 in this photo taken by Antara Foto.
The airport was reopened at 15: 00 pm local time (0900GMT) as the air space around the airport has been free from volcanic ash, director general for air transport at the Transport Ministry Pramintohadi Sukarno said.
"The spread of volcanic ash has moved to the southeast and do not cover the air space above (the area around) the Ngurah Rai airport so that the flight activities of the airport can be resumed," he told Xinhua in a text message.
In a meeting attended by the head of meteorology and geophysics department of the airport, it was revealed that the frequency of the tremor and eruption as well as the height of ash spread have declined, the official said.
The status of volcano observation notice for aviation has also been decreased from red to orange, meaning that planes may pass the territory but the potential of eruption remains, said Sukarno.
Ngurah Rai airport serves over 200,000 foreign holidaymakers visiting the resort island every month, according to the national statistics bureau.