Austrian president hold first talks with Kurz after legislative election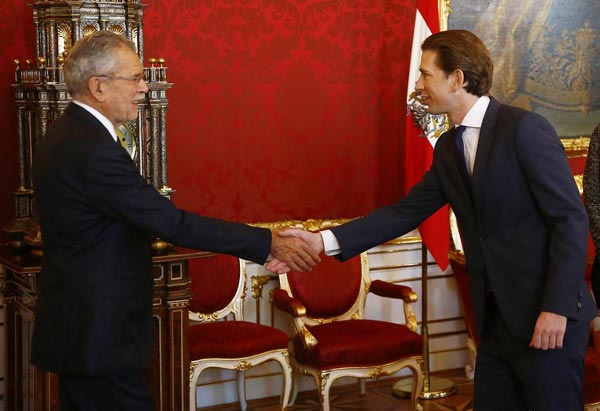 Austrian President Alexander Van der Bellen (L) welcomes head of the People's Party (OeVP) Sebastian Kurz in is office at the historic Hofburg palace in Vienna, Austria, Oct 17, 2017. [Photo/Agencies]
VIENNA - Austrian President Alexander Van der Bellen on Tuesday held his first talks with Sebastian Kurz, leader of People's Party (OVP) which is the winner of Sunday's legislative elections.
Kurz said later that they had a "good talk," and spoke about a number of issues, including what potential coalitions could be formed under the next government.
Van der Bellen is expected to task the People's Party leader with the duty of forming the next government when the vote count is finalized later in the week.
OVP becomes the strongest party in the parliament by receiving some 31.6 percent of the vote in Sunday's election, followed by the Social Democrats (SPO) on 26.9 percent and the right populist Freedom Party on 26 percent.
To form a government, OVP needs to build a coalition with SPO or the Freedom Party.