Harbin doctor saves life on National Day in Mauritania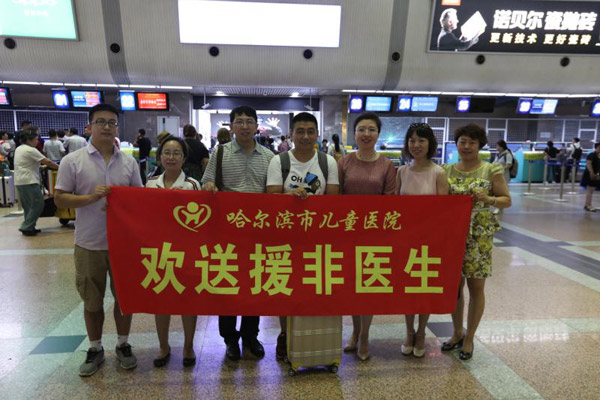 Wang Jingbo (L,4) departs from Harbin. Photo provided to China Daily
Wang Jingbo, 37, a surgeon of Harbin Children's Hospital, arrived in Kiffa, a city in south Mauritania, in July, where he would spend the next one year providing medical assistance.
At 5 pm local time on Oct 1, after five hours of surgical operation on an old woman, Wang was surrounded by rhythmic cheer.
He knew they were saying "China" in the local language in the unique style of Africa.
As he was busy with the operation, he did not get time to send a message to his wife and son to say "Happy National Day".
However, it was 3 am (Beijing time) on Oct 2.
"Harbin has a long history of sending medical personnel to Mauritania," said Wang. "I feel quite honored as a member of the 32nd batch and it would be a big plus in my career."
Before departing, Wang did lots of research about the situation in Mauritania, especially the city where he would be based, but when he landed in Kiffa, he was overwhelmed by a series of difficulties beyond imagination.