Three scientists share 2017 Nobel Prize in Physics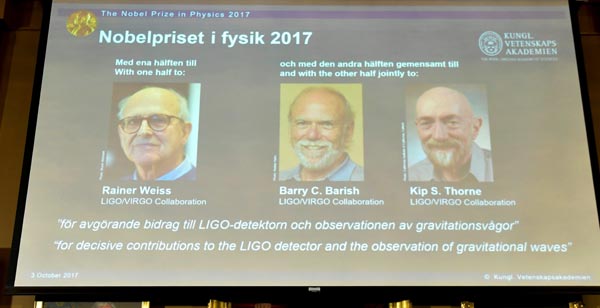 The names of Rainer Weiss, Barry C. Barish and Kip S. Thorne are displayed on the screen during the announcement of the winners of the Nobel Prize in Physics 2017, in Stockholm, Sweden, October 3, 2017. [Photo/Agencies]
STOCKHOLM -- The 2017 Nobel Prize in Physics are shared by three scientists, announced the Royal Academy of Sciences in Stockholm on Tuesday.
The Nobel Prize in Physics 2017 was divided, with one half awarded to Rainer Weiss, the other half jointly to Barry C. Barish and Kip S. Thorne "for decisive contributions to the LIGO detector and the observation of gravitational waves."
Olga Botner, member of the Nobel Physics Committee at the press conference explained that, "We know the gravitational waves existed, but it's the first time to find them."
It is "a milestone, opening a window to the unknown universe. A dawn for the gravitational wave astronomy," she added.
In the press conference telephone interview, Rainer Weiss said he felt "pretty wonderful" at the news, and he praised the dedicated works many scientists made for decades."
"I am very excited that it worked out in the end. It was wonderful experience," said Weiss, adding that the discovery "have added new knowledges and will open a new science in understanding our universe."
LIGO, the Laser Interferometer Gravitational-Wave Observatory, is a collaborative project with over 1,000 researchers from more than 20 countries. Together, they have realized a vision that is almost 50 years old, said a statement released by The Royal Swedish Academy of Sciences.
"The 2017 Nobel Laureates have, with their enthusiasm and determination, each been invaluable to the success of LIGO. Pioneers Rainer Weiss and Kip S. Thorne, together with Barry C. Barish, the scientist and leader who brought the project to completion, ensured that four decades of effort led to gravitational waves finally being observed. " the statement added.
So far, all sorts of electromagnetic radiation and particles, such as cosmic rays or neutrinos, have been used to explore the universe. However, gravitational waves are direct testimony to disruptions in spacetime itself. This is something completely new and different, opening up unseen worlds, the statement said.
This year's prize is 9 million SEK ($1.1 million), with one half going to Rainer Weiss, and the other half to Barry C. Barish and Kip S. Thorne.