Moscow to cut US diplomatic personnel in Russia by 755 people: Putin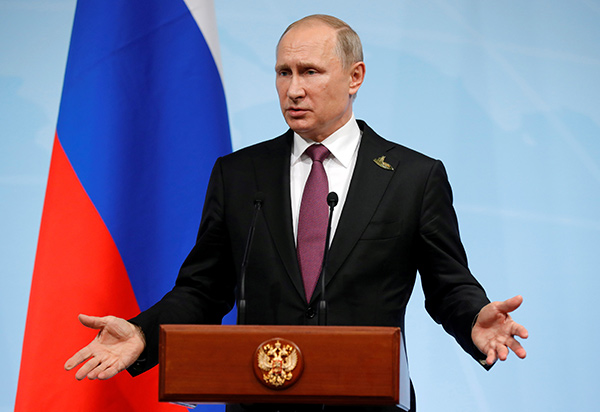 File photo shows Russian President Vladimir Putin speaks during a news conference after the G20 summit in Hamburg, northern Germany, July 8, 2017. [Photo/Agencies]
MOSCOW - Moscow will reduce diplomatic staff of the United States in Russia by 755 people in order to equal the number of Russian diplomatic personnel in the US, Russian President Vladimir Putin said Sunday.
"The personnel of the US diplomatic missions in Russia will be cut by 755 people and will now equal the number of the Russian diplomatic personnel in the United States, 455 people on each side," Putin said in an interview broadcast with Russia's Rossiya TV channel.
Denouncing the latest "unlawful" move by Washington to tighten sanctions against Russia, Putin said it is time for Moscow to show that "we will not leave anything unanswered."
"We've been waiting for quite a long time that maybe something would change for the better, we had hopes that the situation would change. But it looks like it's not going to change in the near future," Putin said.
On Thursday, the US Senate overwhelmingly approved a bill slapping tougher sanctions on Russia, two days after the bill was approved by the US House of Representatives.
The bill will be sent to the White House for President Donald Trump to sign into law or veto.
Putin said Russia has prepared a large set of measures to respond to the US when it is necessary, including restrictions in "sensitive" areas of cooperation with the latter, which hopefully would not bse affected for the moment.
"We could imagine, theoretically, that one day a moment would come when the damage of attempts to put pressure on Russia will be comparable to the negative consequences of certain limitations of our cooperation. If that moment ever comes, we could discuss other response options. But I hope it will not come to that. As of today, I am against it," Putin said.
According to the president, the above-mentioned areas mostly include the joint fight against terrorism, obligations in nuclear arms control and space projects rather than economic relations, Putin said.
The Russian Foreign Ministry announced on Friday that it would scale down US diplomatic staff in Russia to 455 people and seize a US warehouse and a recreational compound in Moscow.
It added that Russia reserves the right to give an adequate response if Washington takes further hostile measures.