Suspected terror attack kills 22, injures over 50 in Manchester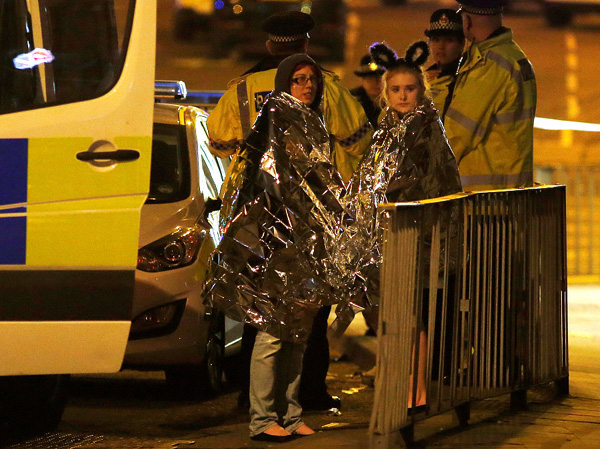 Two women wrapped in thermal blankets stand near the Manchester Arena, where US singer Ariana Grande had been performing, in Manchester, northern England, Britain, May 23, 2017. [Photo/VCG]
At least 22 people were killed, some of them children, and over 50 injured in what UK Prime Minister Theresa May said was being treated by police as a major terrorist attack on a pop concert in Britain's second city of Manchester.
An explosion came at Manchester Arena, in the center of the city, as US pop star Ariana Grande finished a sell-out show attended by many young teenagers and their parents.
Greater Manchester Police Chief Constable Ian Hopkinson told reporters: "I can confirm there are children amongst the dead. We believe it was one man, acting alone, who used an improvised explosive device. We believe he is amongst the dead."
In London, police said extra armed police would be on the streets of the capital as a precaution.
Eyewitnesses in Manchester spoke of bodies strewn on the ground, covered in blood.
No one has claimed responsibility for the attack, although social media sites and websites linked to the extremist Islamic State group were full of messages praising the attack, the Daily Telegraph reported.
May and other political leaders cancelled general election campaigning ahead of the June 8 vote as key ministers and security experts gathered in London for an emergency meeting.
"We are working to establish the full details" of what had happened in Manchester, May told the BBC.
"All our thoughts are with the victims and the families of those who have been affected," she said.
Recently elected Manchester Mayor Andy Burnham said it was "an act of evil. It has been a very dark night. Manchester people will come together. We will not let this divide us."
The BBC said a number of people and local hotels had offered temporary accommodation for concertgoers.