Ireland says to explore EU measures to help minimize Brexit impact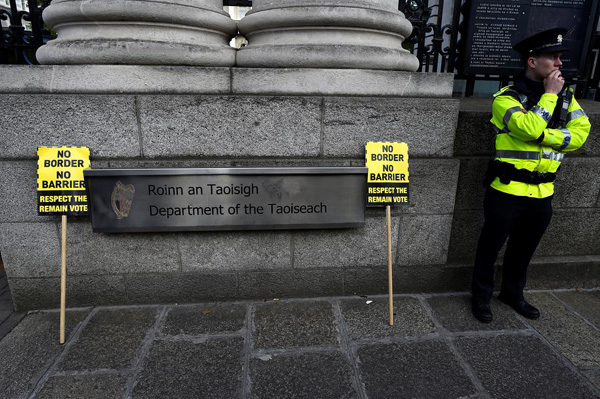 Protest signs left by anti-Brexit campaigners, Borders Against Brexit are left outside Irish Government buildings in Dublin, Ireland April 25, 2017. [Photo/Agencies]
DUBLIN - Ireland on Tuesday published its strategy for the Brexit negotiations, saying that it will explore European Union (EU) measures to help minimize Brexit impact.
In the strategy, Ireland welcomed the outcome of the weekend's European Council meeting and the overall approach to the forthcoming Brexit negotiations set out in the guidelines.
Under the strategy, Ireland observed that discussions were under way with the European Investment Bank on the potential for increased investment in Ireland to back Ireland's ten-year capital investment program.
Ireland stressed its priorities as the Northern Ireland peace process and Good Friday Agreement, maintaining the Common Travel Area and minimizing the risks to Ireland's trade and economy, and no return to a hard border, according to the strategy.
The Common Travel Area is an open borders area comprising the Republic of Ireland and Britain.
Britain's withdrawal from the EU would effectively make the Republic of Ireland-Northern Ireland border an external EU border. But both the Irish and UK governments have stated that they do not wish for a hard border between the two countries, taking into account the historical and social sensitivities that permeate the Island of Ireland.
The strategy stressed the rights of Irish citizens residing in the Northern Ireland, saying that they should continue to enjoy their rights as EU citizens.
It said Brexit presents critical risks for Ireland's key sectors, including food, retail, tourism, fishing and energy.
According to the strategy, Ireland will intensify its focus on the economic implications of Brexit, including on domestic policy measures to reinforce the competitiveness of the Irish economy, to protect it from potential negative impacts of Brexit, and to pursue all possible opportunities that might arise.
It said Ireland will prepare a further paper on economic implications of the Brexit challenge.
At Saturday's summit, the leaders of the 27 remaining EU countries adopted unanimously the Brexit guidelines.
According to the Brexit guidelines, the EU, throughout the negotiations, will maintain unity and act as one with the aim of reaching a result that is "fair and equitable for all member states and in the interest of its citizens."
The two year timeframe of Brexit negotiations set out in Article 50 ends on March 29 of 2019.