Chile rocked by 6.9-magnitude quake; no major damage reported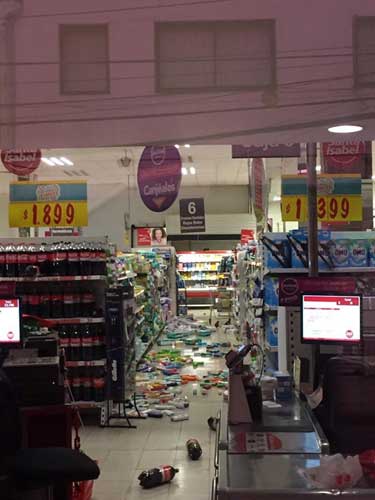 Merchandise is seen on the ground inside a supermarket after an earthquake hit off the coast in Vina del Mar, Chile April 24, 2017. [Photo/Agencies]
FELT BEYOND THE ANDES
Videos from the Valparaiso area showed objects falling from store shelves, rocks falling onto roads and lights flickering. The quake was felt as far away as Argentina, on the other side of the Andes.
Interior Minister Mario Fernandez said there had been some landslides but "in general the situation is pretty normal bearing in mind the quake's intensity."
Strict construction codes in Chile limit damage to buildings.
Copper mining was unaffected, according to Chile's state-run Codelco, one of the largest copper mining companies in the world, and Anglo American, which has copper operations in central Chile.
But interruptions in the electricity supply led the Aconcagua oil refinery to temporarily suspend operations for safety reasons, state-run oil firm ENAP said. There was no damage to either of Chile's two refineries, ENAP said.
Several aftershocks including two of magnitudes 5.0 and 5.4 were recorded in the same spot and could be felt in Santiago, part of a cluster of tremors from that area in recent days.
Chile, located on the so-called "Pacific Ring of Fire," has a long history of deadly quakes, including a 8.8 magnitude quake in 2010 off the south-central coast, which also triggered a tsunami that devastated coastal towns. More than 500 people died.
That was the sixth-largest earthquake ever recorded, according to the USGS. The largest recorded temblor in history was also in Chile, a 9.5-magnitude quake in 1960.
The long, slender country runs along the border of two tectonic plates, with the Nazca Plate beneath the South Pacific Ocean pushing into the South America Plate, a phenomenon that also formed the Andes Mountains.
Reuters