Chinese World War I volunteers remembered through UK exhibition
They are often described as forgotten heroes, but the role of thousands of Chinese World War I volunteers will be remembered at an exhibition at Durham University's Oriental Museum.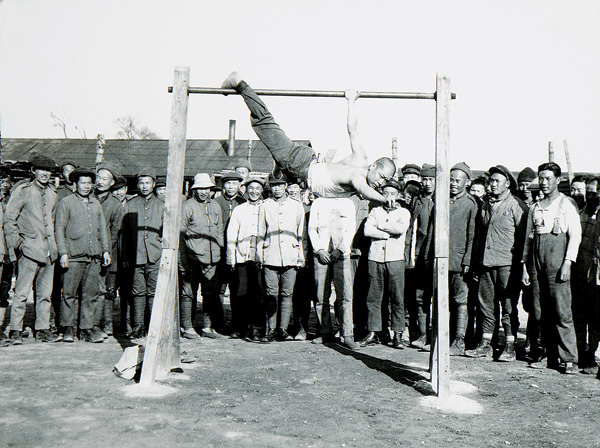 Laborers from China such as those in this photo, were crucial to the war effort. WH HAWKINGS COLLECTION, COURTESY OF JOHN DE LUCY 
Using historic photographs and objects, A Good Reputation Endures Forever: The Chinese Labour Corps on the Western Front, examines the vital role the men played.
The corps, which was made up of around 140,000 Chinese men, was recruited in 1916 by the British and French militaries to provide support to front-line soldiers.
About 96,000 Chinese men volunteered to work for the British.
The contribution of these unsung heroes was barely recognized at the end of the war, and in the following decades was almost completely forgotten.
Craig Barclay, curator of Durham Oriental Museum, hopes that is now changing.
"The Chinese Labour Corps has just not featured in the British narrative of World War I and it's really important we redress that," he said. "We endeavor to correct that significant historical omission and do our very best to ensure as many people as possible are made aware of the major contribution that China made to this conflict."
The Chinese Labour Corps supplied the army with weapons and ammunition, food and fodder, water and fuel. The unit's members also worked to build and maintain roads and railway lines, repaired tanks, dug trenches, and filled sandbags.
Many of the men were from poor backgrounds, but the corps also attracted students and intellectuals, who helped raise political awareness among their peers and who wrote letters home for their colleagues.
The exhibition on Durham's Elvet Hill features historic photographs and objects that explain the volunteers' journey, from the formation of the corps, through the journey to Europe, and onto the battlefields.
Two diaries that belonged to a British officer who served alongside members of the corps will also be on display, something the curator describes as "an enormous revelation".
"The British officer, called Jim Maultsaid, wrote that he had been wounded on the frontline and was no longer fit to serve in the trenches. Instead, he was assigned to serve with the Chinese Labour Corps.
"His genuine affection for the Chinese volunteers he worked with comes across in his diary and also his huge admiration and pride for his team," said Barclay. "It was a really powerful message about Anglo-Chinese collaboration."
The exhibition runs until Sept 24.