Yemen enters 3rd year of war, as famine looms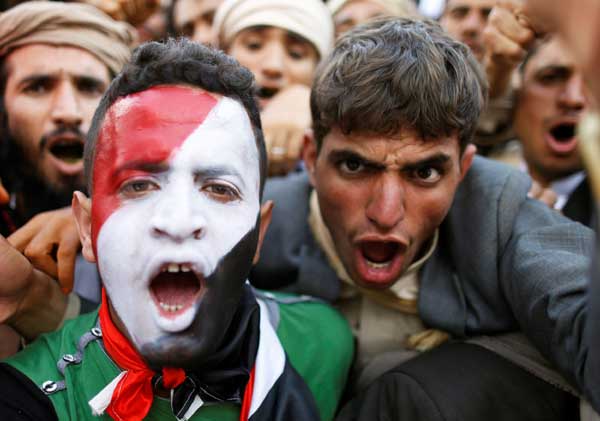 Supporters of the Houthi movement and Yemen's former president Ali Abdullah Saleh shout slogans as they attend a joint rally to mark two years of the military intervention by the Saudi-led coalition, in Sanaa, Yemen March 26, 2017. [Photo/Agencies]
SANAA -- Yemenis marked on Sunday the second year of war that erupted after Shiite Houthi fighters stormed the capital Sanaa and ousted Saudi-backed Sunni President Abd-Rabbu Mansour Hadi.
More than one hundred of thousand supporters of Houthi movement and former President Ali Abdullah Saleh crowded in Sabeen Square southern the capital Sanaa to show loyalty to Houthi leaders and Saleh, according to live footage from the scene and experts' estimations.
The crowds raised the country's national flags only and banners demanding "end of war, lifting economic siege, political peaceful settlement and equal share in the future presidency and government."
On the other corner of territory under control of the exiled internationally recognized government of President Hadi, live footage and pictures aired by pro-government satellite televisions from southern city of Taiz showed around hundreds of government supporters gathering at a hall to celebrate the anniversary of war, raising the national flags of Saudi Arabia and United Arab Emirates.
No rallies or celebrations were reported from the government's temporary capital port city of Aden, nor other southern cities under government control.
Pro-Houthi rally lasted six hours, from early morning to noon, while pro-government celebration lasted one hour.
Pro-Houthi former President Saleh, the most wanted by Hadi's government and Saudi-led military coalition, was seen saluted by the demonstrators in Sabeen Square as he was walking among the crowds.
In his speech on the eve of the event, Saleh said "those who stand by Saudi aggression coalition do not dream to return back to Sanaa."
Rival leaders' remarks showed no sign of good intentions for peace solutions.
United Nations Envoy to Yemen Ismail Ould Cheikh Ahmed said last week the Yemeni warring parties were refusing to discuss UN-brokered peace efforts.
Ould Cheikh said the refusal came amid an escalation in the war that he said was having a "dramatic impact on the civilians."
Two years on, Yemen now enters its third year of bloody war without achieving any progress on the ground on behalf of any warring force, and there is no good news about near peaceful political settlement either.
However, everything looms in sight is no more than starvation and beginning of famine spreading.
Nada Ahmed and her brother Omar are one family traced by Xinhua in the Houthi-controlled capital Sanaa.