Hungary withdraws candidacy from 2024 Olympic Games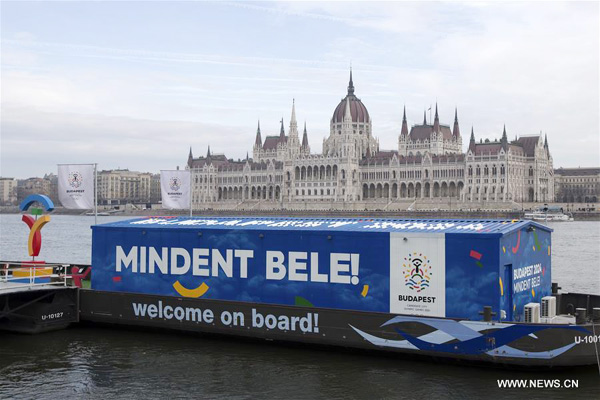 The logo for Olympics 2024 bid is seen at a promotional spot on the bank of the Danube with the Hungarian Parliament in the background in Budapest, Hungary on Feb 23, 2017. [Photo/Xinhua]
The leadership of the National Olympic Committee also acknowledged the decision, which will be formally presented in the Budapest City Hall next week, Tarlos added.
"The government, the leadership of the capital, the presidency of Fidesz and the Fidesz parliamentary group proposes the withdrawal of the candidacy to both the Hungarian Olympic Committee and to the City Hall," Lajos Kosa, leader of the Fidesz parliamentary group told MTI.
"The government that lies by calling himself national just ignored the will of 266 thousand people and ran away cowardly (from the referendum)," Andras Fekete-Gyor, the leader of Momentum Movement said at a conference in Budapest, following the dropping of the bid.
"The people should have been asked two years ago exactly to avoid such a situation," he added.
Momentum is the organization that handed over the signatures necessary for its referendum on blocking the hosting of the 2024 Olympic Games in Budapest to the Budapest Election Office last Friday. The campaign of Momentum, named "NOlimpia", was initiated a month ago, based on fear of overspending and corruption. Momentum wants the Hungarian government to spend the money on the Hungarian education and healthcare system.