Let's make the sport more 'fashionable', urges table tennis veteran
The 47-year-old former world table tennis champion Jean-Michel Saive says his pragmatic approach to reforming the game will help him win the presidency of the International Table Tennis Federation (ITTF).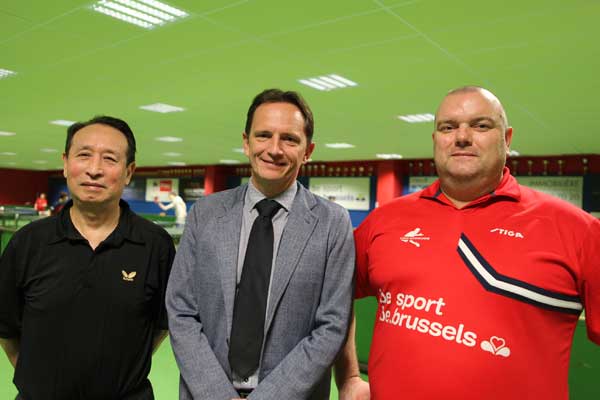 Candidate for the presidency of the International Table Tennis Federation (ITTF) Jean-Michel Saive (C) and his former coach Wang Dayong (L) are instructing Belgian players at a table tennis club in Brussels. [Photo by Fu Jing/chinadaily.com.cn] 
Saive, who was mentored by the renowned Chinese coach Wang Dayong, also pledged that the federation, based in Lausanne, Switzerland, would work closely with China if he wins the presidency, the ballot for which will be on May 31 in Dusseldorf, Germany.
Saive announced his participation in the election last month. Current ITTF President Thomas Weikert, who is from Germany, said last October that he would be running and the President of the Qatar Table Tennis Association since, Khalil Al-Mohannadi has also announced his candidacy.
"In running my campaign I am filled with full confidence and optimism to win," said Saive during an interview with China Daily at a table tennis club in the outskirts of Brussels.
He added that after announcing his intention to run for ITTF president, he has received positive responses from the table tennis community and from the sporting world generally.
Saive even met Cai Zhenhua, former table tennis player and president of the Chinese Football Association, the Chinese Badminton Association and the Chinese Table Tennis Association, in Beijing recently.
Saive said: "The talks are quite active though China could not announce which candidate it will support right now."
A total of 222 member associations of the ITTF will be voting in May to decide.
Wang Dayong, the former coach of the Belgian national team, also said Saive had many advantages which would make him the ideal candidate for the role.
"He is not only a professional player but has demonstrated tremendous leadership at various levels," said Wang, who started to train Saive since the late 1980s.
Meanwhile, Wang said his links to China and better understanding of the country would also help him manage the federation better.
"He has aimed to make the sport more global and attractive and cooperation with China in that respect is vital," said Wang.
According to Wang,Saive, whose parents and younger brother are also famous table tennis players in Europe and Belgium, has visited China almost 40 times and has kept sound relations with Chinese players and the international table tennis community.
"This will help him implement the reform agenda if he wins the election," said Wang, adding that China has occupied nearly half of the world's top-100 table tennis positions.
He said: "Making it global will benefit China and the rest of the world."
Saive announced his retirement in 2015 but kept his former world number 1 ranking for 17 months. He was a silver medalist at the 1993 World Championships, European champion in 1994, a silver medalist at the 2001 World Championships (Team) and he is a 7-time Olympian.
"Apart from my player credentials, I have accumulated many managerial experiences," said Saive proudly.
Saive was one of the founders of the Club of Table Tennis Professionals in the 1990s and an active member of the National Olympic Committee since 2001, serving in various positions, including Board member and Chair of the Athletes' Commission since 2013.
In 2009, he became a member of the European Olympic Committee (EOC) where he currently serves as Chair of the Athletes' Commission and an EOC Board member.
During the campaign, Saive said the ITTF has one of the best development programs in the world of sport and the ITTF staff and volunteers work extremely hard on a daily basis, with limited funds and resources, to develop the sport worldwide.
"My intention is to double the development budget and to provide the necessary human resources to spread our sport throughout every part of the world," said Saive.
Though he is ambitious to implement a reform agenda, Saive also said stability was key until the next Summer Olympics, which will be held in Tokyo in 2020.
"My intention is to convince all levels of decision-makers within the ITTF not to make any more changes to the laws of table tennis for a set period of time," said Saive.
"Instead, out of official competitions, we can welcome experiments and tests to evaluate the effect any changes would have. I believe that we need this period of stability."
He also said the federation should revitalize its marketing strategies and introduce new global sponsors and advertisers and to provide them with a high return on their investment in terms of the promotion and visibility of their product.
"We must make table tennis more 'fashionable'", he added.