Chinese cuisine evolves in the United States as tastes change
Chinese food in the United States is whetting new appetites, with more focus on taste and preparation to please, and tease, the palate.
The usual suspects remain, but for more refined diners, the most-wanted list is expanding. General Tso's and sesame chicken are still on the menu but restaurateurs are attempting to redefine the cuisine, drawing inspiration from the homeland and fusion trends.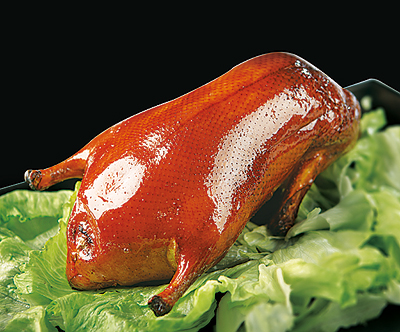 "Chinese restaurateurs have been trying to offer Chinese food as fine dining; but their efforts have remained largely unsuccessful until recently," said Tong Chen, a professor at the University of California-Irvine and author of Chop Suey, USA: The Rise of Chinese Food in America.
He said that "more professionally trained chefs and more affluent and more informed diners in Chinese restaurants" are helping drive the trend.
At La Chine, which opened in November 2015 inside the Anbang Insurance-purchased Waldorf Astoria hotel, lamb loin stir-fried with cumin costs $38. The white-tablecloth restaurant offers seasonal freshwater crabs transported by air from China.
'Going out'
Famed Peking duck restaurant, Dadong, is set to open in Midtown Manhattan, steps away from Times Square, in spring 2017. The 1,672-square-meter flagship location will seat 400 people on two floors and feature a massive rooftop bar and private dining facilities with glass exposure on three sides.
In June 1996, Wang Gang and his wife, Liang Li, opened their first restaurant, Meizhou Dongpo, in Beijing.
"Someday we are going to cook for the whole world!" they said.
Nineteen years later, they oversee a corporation with more than 100 restaurants in China. Soon, they are going to have five restaurants in the US, with a flagship venue on the Las Vegas Strip.
Meizhou Dongpo opened its first US restaurant in Beverly Hills, California, in 2013, and kept its name exactly as it is in China, with dishes selected from its menu in China. The chefs, though hired locally, were sent to China for training.
"We are trying to make authentic Chinese food for America," said Wang Xiaojing, the US general manager for Meizhou Dongpo.
Chinese companies have implemented a rapid "going out" strategy, buying properties around the world, merging with global companies and opening foreign subsidiaries. Restaurant brands are joining the movement.
"Fame has brought us pressure and responsibility because Chinese restaurants who are considering opening locations in the US are all looking at us," said Wang. "If we are successful, they will take action. If we fail, they will be afraid of 'going out'."
California is known for authentic, diverse Chinese food, driven by a large population of new Chinese immigrants. You will find your regional cuisine in the Greater East Los Angeles area -Monterey Park, Arcadia, Roland Heights and other cities nearby-no matter which province of China you are from.
In places like Hollywood and Beverly Hills, however, residents don't see a great variety of Chinese cuisine. There are Panda Express outlets in shopping centers, and takeout restaurants tucked in malls.
This is changing. Meizhou has recently opened a rooftop dining deck at the Westfield Century City mall in Beverly Hills.
Wang and his team have worked hard to please both their American and Chinese customers as each group has its own preferences.
"We realized Americans prefer that all the main dishes be served at the same time," he said. "Chinese like the dishes to be served right, when it's ready, because they share dishes. Our servers mark the order letting the kitchen know whether the customers are Chinese or American so that we can accommodate them better."
Make Chinese food 'fun'
To maintain quality, the company brought a dozen chefs from Beijing. They debated passionately about what dishes should be on the menu, spending hours analyzing if a dish would be liked by both Chinese and American diners.
"We decided that our rule was picking what Americans would like from our traditional Meizhou Dongpo dishes," Wang said. That way, they would not sacrifice authenticity in making dishes appealing to Americans.
Meizhou's opening created a buzz in the Chinese community. Chinese students and immigrants were excited to see a Chinese brand they could relate to coming to California. It also got the attention of American foodies.
"Popping fiery Szechuan dumplings on a sun-drenched patio at Westfield Century City is a new kind of mind blowing," Los Angeles magazine wrote.
Many were attracted by its authenticity.
"The times I've been by, at least half the patrons were Chinese, and I suspect they would not accept toned-down food," wrote a reviewer on Chow.com.
The Peking duck seemed to have gotten the most favorable reviews. "I have a new respect for duck meat design, as the chef displayed such patience as he skillfully assorted each piece of meat and crispy skin," wrote Ariel Zhu in LA Splash magazine.
"Americans like the duck the most," said Wang. "We are making it our signature."
"For the 18 years the chef worked here, he barely ate at other restaurants,'' Jonathan Ho said.Ho is the latest owner of a decades-old Manhattan Chinatown establishment, Shanghai Cuisine, and co-founder of a new fusion chain: Carma.
"For lots of Chinese chefs here in the US the problem is not their craft or experience, but their vision," said Ho. "Cooking is an art. A chef has to be aware of what other chefs are doing, while broadening his vision by listening to music, learning about art and more. Cooking is not a static action of turning the food in the wok."
Ho brought Shanghai Cuisine's chef to RedFarm, a modern Chinese restaurant owned by Ed Schoenfeld, a pioneer in the movement to bring authentic regional Chinese dishes to New York in the 1970s. Ho served the waiters himself to show them how fine-dining restaurants treat their customers.
"Now diners have very high standards for restaurants. Every detail in my restaurant represents my attitude toward food," he said.
"Two ways we can redefine Chinese cuisine: First, stick with the most traditional and authentic Chinese food and make it better; second, innovation, play with it," Ho said. His theory matched the findings of the National Restaurant Association of America after surveying 1,300 professional chefs and members of the American Culinary Federation.
On the 2015Menu Trends to Watch list, "going global" stands with five others, like local sourcing and gourmet kids' dishes. And under the big umbrella of American restaurants going global, "microtrending in this category is fusion cuisines, as well as authentic and regional, underscoring the breadth and depth of flavors being explored".
After taking over Shanghai Cuisine, Ho co-founded Carma Asian Tapas in New York's West Village and Carma East in East Village.
With Carma, Ho is aiming for "playful places".
Carma East focuses on dim sum grouped under creative categories on the menu including For Carnivores Walking in Dreams and Comfort Food to Go with Other Comfort Food. There are dozens kinds of soup dumplings, crispy pies and Chinese tacos. The back wall is decorated with glowing LED letters: Let the Lights Dim Sum.
On the Carma Asian Tapas' menu, there is the crispy wosun salad, made with lotus root and fresh shredded wosun-a thick-stemmed lettuce most Americans have never tasted.
The restaurant features a full bar and a beautiful courtyard looking like a small siheyuan, or historical Chinese quadrangle.
On a Friday evening, the courtyard is packed. At one table, six ladies are having a girls' night out. In a combination of Cantonese and English, they spoke highly of the beef noodles.
Affluence plays a role
Separated by blooming begonias, at the table next to the women, are a senior couple enjoying xiaolongbao (steamed bun) and Peking duck tacos. House water is served in classic French restaurant glass bottles. Crystal ball string lights illuminate the yard when night falls, and the pathos plants stretch their short veins on the wall.
"Chinese chefs are becoming much less provincial, much more worldly. They are seeing other kinds of foods. Now you see Chinese people adding all kinds of food to their repertoire. They are feeling the influence of other cultures," said Schoenfeld of RedFarm, who's known as "the walking encyclopedia of Chinese food" by eater.com.
"Growing" is Schoenfeld's prediction of the future of Chinese cuisine, and he suggested two reasons for Chinese restaurants becoming increasingly upscale.
First is the change in food culture in China.As the economy grows, and Chinese people are becoming more affluent, they care more about what they are eating, said Schoenfeld, and that will affect Chinese cuisine internationally.
"People have money. They spend on food. So, there is excitement in China about restaurants and food-traditional Chinese cooking and modern Chinese cooking. I think we are going to see more and more of these (upscale Chinese eateries)," he said.
There is a growing number of rising local chefs working with Chinese food.
Jonathan Wu, a Chinese American from New York, is the chef and partner of Fung Tu, a restaurant on the Lower East Side of New York, featuring creative Chinese-American food and a thoughtful beverage program.
By Chinese-American food, Wu doesn't mean sweet and sour chicken; he means food that he can relate to.
"Things that were important to me in terms of the cuisine were originality and soulfulness," said Wu. "I would draw from food that I ate growing up, which were American-Chinese dishes that my mother and relatives made."
Wu was exposed to traditional Chinese ingredients from early on.There is a tree in his grandparents' yard in New Jersey.
"It's a Toona sinensis. In the spring, the leaves, when they first come out, are very tender. It has this special flavor: it's garlicky, earthy, bitter," said Wu. "It's very Chinese in its palate. My grandma would harvest the leaves, chop them up, and fold them into scrambled eggs."
That's the inspiration for the dish "The Toon Cloud" at Fung Tu. With egg white-infused dashi (stock), kombu (kelp), ginger and garlic, he makes a floating island. The cloud of eggs is served in the broth, and he drapes toon leaves over the top to highlight its flavor.